Networking Guides
The Office of Career and Professional Development publishes a Networking Guide and a Networking Guide for International Students.
Networking Opportunities
Through Miami Law Partnerships
Through Bar Associations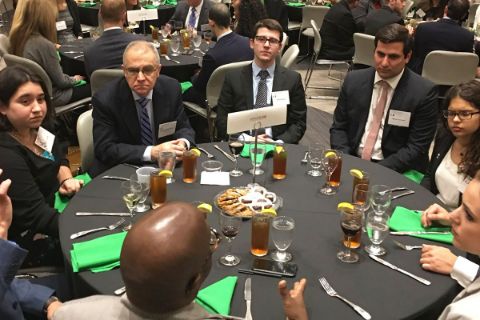 Through Student Organizations and Law Reviews
Through Organizations
Job Fairs
Job fairs give students increased access to network with a broad range of employers and help accommodate employers unable to travel to University of Miami School of Law for on-campus interviews.
Legal Grounds
Legal Grounds is a weekly community building event that allows students to socialize both amongst themselves as well as with administration and faculty. The Bass Bricks are transformed into a hub for discussion of courses, academics, post-grad opportunities, upcoming events, and more. Legal Grounds also provides an opportunity for the whole law school community to enjoy coffee and bagels in an informal setting.
It occurs every Thursday from 8:30-10:00 a.m. on the Bass Bricks and is sponsored by LAFAC.
"Coffee and bagels are the great equalizers! Legal Grounds is one of the few opportunities during the class week where you can informally pal around with administration and faculty and pick their brains about anything like current events or things that are happening during class."
-Alice Kerr, J.D. '20 

"Legal Grounds is a great way to bring students, administrators and faculty together in an informal setting. I met a fantastic 1L student during Legal Grounds last week and have since offered him a position as my research assistant in the Human Rights clinic."
-Carrie Bettinger–Lopez, Director of the Human Rights Clinic and Professor of Law


Pictured: Evening with Esquires event