For students looking for hands-on training for the courtroom, Miami Law has a variety of clinics, student-run organizations, and for-credit programs to develop trial skills.
Participate in Moot Court & Mock Trial Competitions
Charles C. Papy, Jr. Moot Court Board
This student-run, honorary organization focuses on recruiting and training the finest oral and written advocates in the country and is the oldest, largest, and most prestigious advocacy program at Miami Law. Read About Past Moot Victories
International Moot Court Program
In this program, students travel around the globe to moot court competitions, some of which are in Spanish. Students interested in engaging in a challenging litigation and international law experience (while having fun) are ideal for this program. Read About International Moot Court Victories
Trial Team
The University of Miami School of Law Trial Team provides opportunities for students to hone their advocacy skills and develop as trial attorneys. The Trial Team is composed of a select group of students who represent Miami Law in interscholastic civil and criminal competitions against other law schools.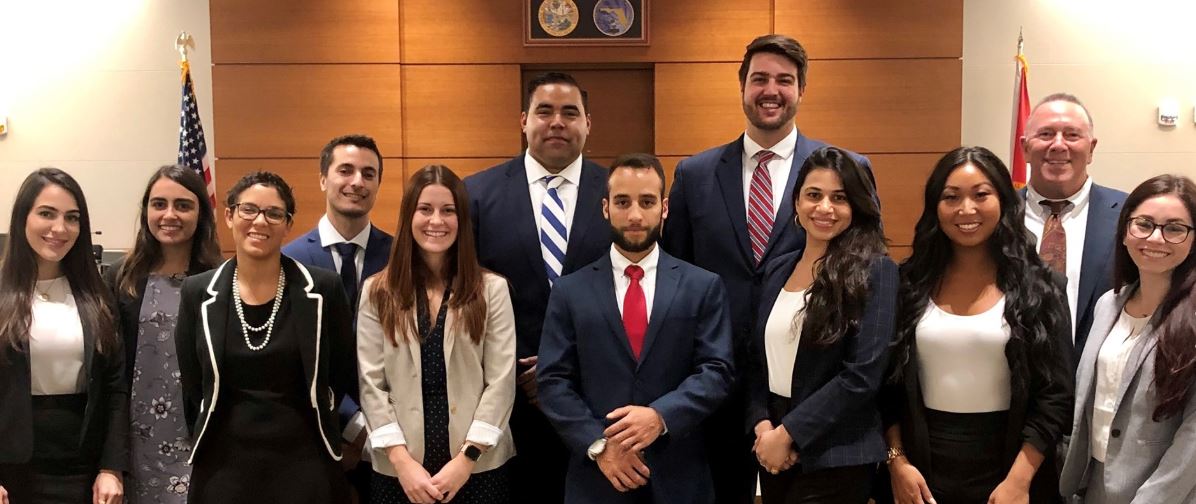 At tournaments, teams consist of two, three or four members who actively compete in each trial. Each competition features a case file selected by the tournament host's governing body. Team members prepare by reviewing legal documents, witness statements, and physical evidence. Over the course of each competition round, each team argues motions, delivers opening statements, conducts direct and cross examinations, and delivers closing arguments. Miami Law's team is coached by a select group of trial attorneys, judges and professors. In addition, guest judges and lawyers also are invited from the law school and local legal community to offer fresh perspectives during the development of the case. To learn more about Miami Law's Trial Team please contact Professor Laurence Rose, Director of the Litigation Skills Program at lrose@law.miami.edu.
Develop Litigation Skills 
Litigation Skills Program
In this acclaimed program, taught by experienced trial lawyers and judges, students engage in rigorous, hands-on training in practical skills for competent professional legal service. Unlike other law schools which typically teach trial skills as an intensive course over a short period of time, our course includes pretrial skills and far more hours. The course culminates in a highly anticipated Final Trial where students conduct a full mock trial before real jurors. Seventy-five percent of second and third year law students enroll in this six-credit course.
Litigation and Dispute Resolution Concentration
Students thinking seriously about becoming a litigator/trial lawyer should consider this concentration. It is structured to provide the opportunity for a law student to become the best practice-ready litigator/trial lawyer that any law school education can produce.
Judicial Clerkships
A judicial clerkship provides direct insight into the judicial process and is a valuable and enriching experience. A law clerk gains practical experience by attending judicial proceedings, performing legal research, drafting memoranda and providing other assistance to the judge.
Cultivate Advocacy Skills with Clinics, Externships, Practicums
Externships & Practicums
There are a variety of options for students looking to obtain academic credit while working in a real world legal setting.
Clinics
Miami Law's clinics give students practical, hands-on lawyering experience, while also helping needy and under-represented individuals and groups locally and across the nation and the globe. Litigation experience can include: