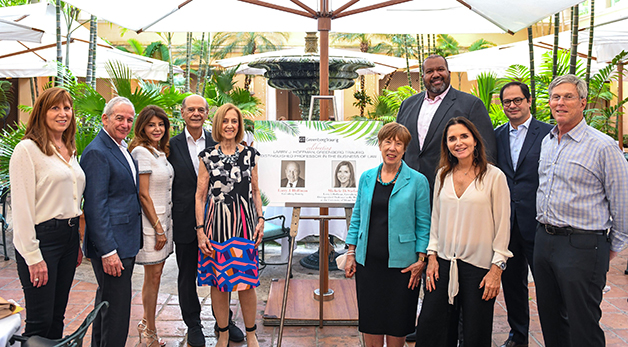 Left of the poster: Sandy Grossman, Ken Hoffman, Cristina Pereyra-Alvarez, Cesar L. Alvarez, Debi Hoffman; Right of the poster: Interim Dean Nell Jessup Newton, Professor Michele DeStefano, Jaret Davis, Yosebel A. Ibarra, & Matthew B. Gorson
CORAL GABLES, Fla. (May 16, 2022) – The University of Miami School of Law has appointed Michele DeStefano as the first Larry J. Hoffman Greenberg Traurig Distinguished Professor in the Business of Law. The firm gave $1.25 million (endowment now stands at $2 million) to the law school in 2006 to establish the professorship in Hoffman's name to support a faculty member with teaching and scholarly interest in the business of law. Funds from the professorship previously were used to support a visiting lecture series.
The legal community celebrated DeStefano's appointment at an event hosted May 9 by Greenberg Traurig Senior Chairman Cesar L. Alvarez. Also attending the event at the Biltmore Hotel were firm Senior Chairman Matthew B. Gorson and Miami office Co-Managing Shareholders Jaret L. Davis, J.D. '99, and Yosbel A. Ibarra, along with Miami Law Interim Dean Nell Jessup Newton.
Hoffman, a well-known authority on law firm management and the business of law, is founding chairman of Greenberg Traurig and a former chief executive officer of the firm, among other roles.
"As one of three original founders of Greenberg Traurig, Larry is a visionary leader who created transformational change for the firm and the legal industry. While he directed the firm's growth from Miami to nationwide and internationally, his model of running a law firm like a business became the example that many law firms of all sizes would subsequently follow," Alvarez said. "With Larry's many contributions in mind, we are certain that Michele's scholarly work and her interest in how lawyers and law firms can be more innovative and business oriented make her richly deserving of this professorship, which will undoubtedly reinforce his vision."
Recognized by the American Bar Association as a Legal Rebel and by the Financial Times as an Innovative Lawyer, DeStefano focuses her work on the intersections between law, business, and innovation. In 2010, she founded the nonprofit LawWithoutWalls, an experiential learning initiative that pairs business and law students worldwide with companies and law firms to solve industry problems and, in the process, hone new mindsets and skillsets. DeStefano recently co-created the Digital Legal Exchange, a nonprofit designed to inspire lawyers to become digital leaders in their businesses. She also is an affiliated faculty member of Harvard Law School Executive Education and at Spain's IE University. She has a B.A. from Dartmouth College and a J.D. from Harvard Law School.
"As a founding partner of one of America's leading law firms, Larry Hoffman charted a visionary path of expansion and created transformational change," said DeStefano. "Holding the Larry Hoffman Greenberg Traurig Business of Law Professorship is a tremendous honor. I hope to continue to set the University of Miami School of Law as a leader in educational innovation and follow in Larry's footsteps as an authority on law firm leadership and the business of law."
As CEO from 1991 to 1997, Hoffman directed the firm's growth from 92 lawyers in three offices to 325 attorneys in nine offices. Today, the firm has more than 2,400 attorneys in 43 locations worldwide. Under Hoffman's leadership, Greenberg Traurig expanded throughout Florida and into key markets, such as New York, Washington, D.C., and Philadelphia. In addition, Hoffman practiced in the areas of corporate, securities, and banking law for more than 40 years and was involved in hundreds of corporate financings. He has lectured extensively in these areas and has been a professor at Miami Law and on the board of numerous banks and corporations. He graduated magna cum laude from Miami Law in 1954.
# # # #
The University of Miami's mission is to educate and nurture students, to create knowledge, and to provide service to our community and beyond. Committed to excellence and proud of the diversity of our University family, we strive to develop future leaders of our nation and the world. www.miami.edu
The University of Miami School of Law's mission is to foster the intellectual discipline, creativity, and critical skills that will prepare its graduates for the highest standards of professional competence in the practice of law in a global environment subject to continual ― and not always predictable ― transformation; to cultivate a broad range of legal and interdisciplinary scholarship that, working at the cutting edge of its field, enhances the development of law and legal doctrine and deepens society's understanding of law and its role in society; and to fulfill the legal profession's historic duty to promote the interests of justice. www.law.miami.edu
About Greenberg Traurig: Greenberg Traurig, LLP has more than 2400 attorneys in 43 locations in the United States, Europe, Latin America, Asia, and the Middle East. The firm, often recognized for its focus on philanthropic giving, innovation, diversity and pro bono, reported gross revenue of over $2 Billion for FY 2021. The firm is consistently among the top firms on the Am Law 100, Am Law Global 100, NLJ 250, and Law360 (US) 400. On the debut 2022 Law360 Pulse Leaderboard, it is a Top 15 firm. Greenberg Traurig is Mansfield Rule 4.0 Certified Plus by The Diversity Lab and net carbon neutral with respect to its office energy usage. Web: www.gtlaw.com. Contact Person: Elaine Walker, 305-579-0832 / email: walkere@gtlaw.com