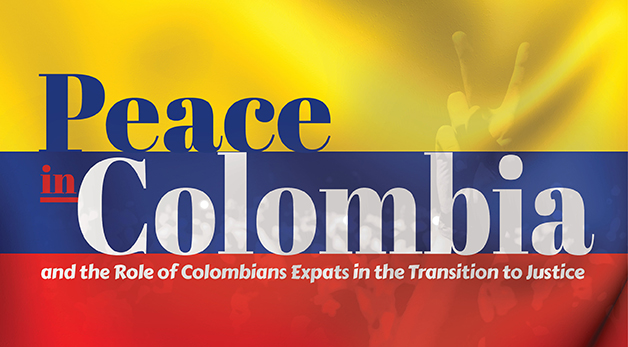 CORAL GABLES, Fla. (March 10, 2020) – A discussion of the implementation of the peace accords from an institutional perspective at an event titled, "The Peace Agreement in Colombia and the Role of Colombian Expats in the Transition to Justice" will be held at the University of Miami School of Law on Thursday, March 26, 2020.
The conversation features Carlos Martín Beristain and a representative of the victims of the conflict, moderated by Paula C. Arias, a lecturer in law whose scholarly work has concentrated on dispute resolution mechanisms, international human rights law, and international humanitarian law, particularly in the armed conflict in Colombia.
Beristain is a doctor of medicine and psychology, who has been working for 25 years on integral attention of victims of human rights violations and their families. His experience includes coordinating the "Guatemala: Never Again!" report, as well as work in Colombia with victims of the internal armed conflict; in Peru, Paraguay y Ecuador with the Truth Commissions of those countries; and in the Sahara with victims of forced disappearance and their families. He is experienced in the attention of victims and survivors of violence, and in preparing expert testimonies for psychosocial evaluation and investigations on reparations.
The Colombian State has negotiated several peace agreements with armed groups in past decades, most recently with the FARC-EP, in 2016. The discussion will look at the integral system of truth, justice, reparations, and non-repetition of the latest peace agreement, and to address criticisms against the peace agreements that the Colombian diaspora may have, and to integrate the Colombians abroad as peacebuilders from afar.
The diaspora, or expatriates, are a long-forgotten sector of society with an important role to play in local peacebuilding efforts. Colombia has generated many waves of immigration in the last four decades; officials estimate that 4.7 million Colombians live abroad and 400,000 of these are victims of the decades-old conflict. To this day, Colombia continues to be the country with the largest number of refugees in the Americas. It wasn't until a few years ago that these communities began to organize and represent themselves as important actors in society, as special ambassadors from afar.
The venue is the University of Miami School of Law on the Coral Gables campus, in Room F309, from 7:00 p.m. to 8:30 p.m. The event is free and open to the public with registration. For more information please contact Paula Arias at parias@law.miami.edu or Yasmina Assis at yassis@law.miami.edu. Parking is available in the surrounding lots through Pay by Phone at a $1.50 an hour, $8 valet, or in the Pavia Garage, at 15 Pavia Street, Coral Gables.