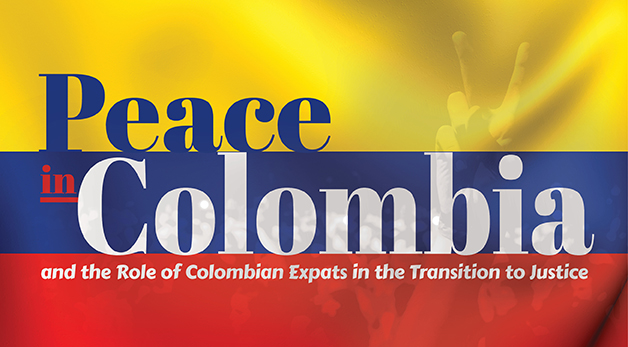 CORAL GABLES, Fla. (June 1, 2020) – The Colombian State has negotiated different peace agreements with armed groups in past decades, most recently with the FARC-EP in 2016. A panel of experts will discuss the implementation of the peace accords from an institutional perspective at an event titled, "The Peace Agreement in Colombia and the Role of Colombian Expats in the Transition to Justice," on June 4, 2020, from 5:00 p.m. until 7:00 p.m. The event will be hosted in Spanish with simultaneous translation via subtitles.
The discussion presents the integral system of truth, justice, reparations, and non-repetition on the latest peace agreement. It also aims to address all the criticisms against the peace agreements that the Colombian diaspora may have, and to integrate the Colombians abroad as peacebuilders in absentia.
The diaspora, or expats, are a long-forgotten sector of society and has a very important role to play in local peacebuilding efforts. Colombia has generated many waves of emigration in the last four decades. Official estimates say 4.7 million Colombians live abroad and 400,000 of these are victims of the decades-old conflict. To this day, Colombia continues to be the country with the largest number of refugees in the Americas. Yet only until a few years ago have these communities began to organize and manifest themselves as important actors in society, as special ambassadors from afar.
The panel includes Francisco de Roux, a Jesuit priest and president of the Colombian Truth Commission. Before assuming his role in the Truth Commission, de Roux directed the Jesuit Center for Popular Education and Research, and founded and led the Peace and Development Program in the Magdalena Medio region of Colombia.
Judge in the Special Jurisdiction for Peace panelist, Roberto Carlos Vidal López is a lawyer and historian of the Javeriana University with a Ph.D. in Human Rights Law. Vidal has been a university professor, advisor to the Ideas for Peace Foundation, and director of the Pensar de la Javeriana Institute. He has written about forced displacement, peacebuilding, migration, and transitional justice. Now he is the magistrate of the Special Jurisdiction for Peace.
Joining them will be a victim of the conflict, Bertha Lucia Fries, and Pablo Rueda-Saiz is an associate professor at the University of Miami School of Law. Pablo is a Colombian lawyer who holds an M.A. and a Ph.D. in Jurisprudence and Social Policy from the University of California, Berkeley. He has worked as a deputy Justice at the Colombian Constitutional Court, as an attorney for the Office of Legal Counsel at the Presidency of Colombia, as well as at the Ministry of the Interior, the Institute for Rural Development of the Ministry of Agriculture, the Land Restitution Unit, and the United Nations Development Program.
The event will be moderated by Professor Paula Arias, international humanitarian law and human rights scholar, and director of the International Moot Court. Register for the free webinar here.