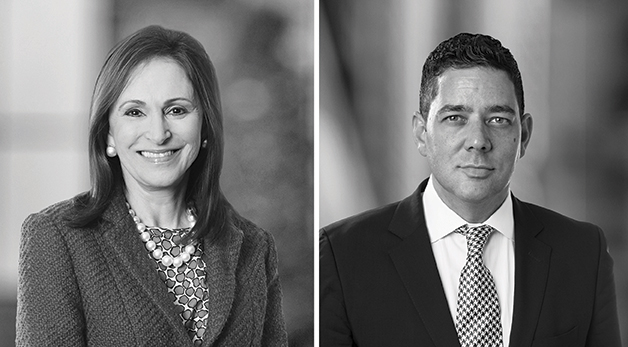 Carolyn Lamm & Jonathan Hamilton
The University of Miami School of Law, a leader in international arbitration education, announces the continued growth of its pioneering arbitration program through the designation of new leadership, faculty, and an expanded curriculum.
Long-standing Miami Law visiting professors and partners with global law firm White & Case LLP, Carolyn B. Lamm is named the Distinguished Faculty Chair of the LL.M. in International Arbitration, and Jonathan C. Hamilton is the Distinguished Faculty Chair of the International Arbitration Institute. White & Case is the top-rated practice in the world in international arbitration.
Drawing on deep historical roots at Miami Law, the international arbitration program expanded significantly in recent years under the guidance of founding partner of Three Crowns Jan Paulsson, together with Albright Stonebridge Group's senior advisor Marike Paulsson.
"Miami has expanded its world-class leadership team to provide both continuity and innovation for students," said Jan Paulsson.
"I look forward to seeing the Institute enriched under Jonathan Hamilton's leadership with his dynamic and interdisciplinary approach to the essential problems in international arbitration and am delighted to see Carolyn Lamm, a role model to many of us, deepening her involvement at Miami Law," said Marike Paulsson.
"We are expanding the curriculum of the LL.M. program in International Arbitration to include even more global luminaries and more diverse topics vital to the future of international arbitration," said Lamm, J.D. '73 and titan in the field who has numerous academic publications.
"We are leading the way of current trends in international arbitration. The International Arbitration Institute is launching a new Arbitration Day and an exciting new annual thought leadership project, beginning with comparative perspectives on the evolution of Latin American Arbitration," said Hamilton. The head of Latin American Arbitration with White & Case, he has published widely on globalization, investment, and arbitration.
The team also includes Lecturer in Law Sandra Friedrich, who will continue as director of the LL.M. program as well as the Institute.
Miami Law has welcomed as faculty and guest speakers a host of the premier names in the field in international arbitration, including Rudolf Dolzer, Martin Hunter, Andrés Jana, Michael Reisman, Stephen Schwebel, Luke Sobota, Albert Jan van den Berg, and Nassib Ziadé, together with leading Miami-based practitioners José Astigarraga, Daniel González, Luis O'Naghten, John Rooney, and others.