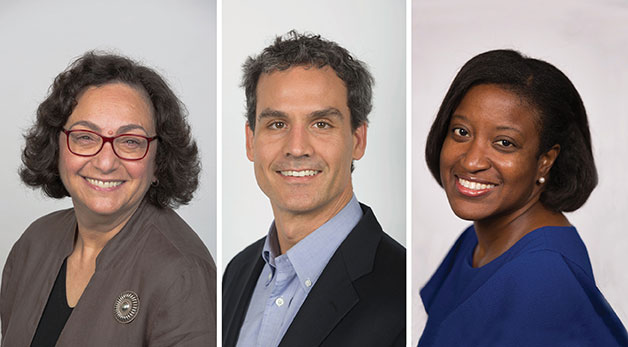 Professors Lili Levi, Andrew Dawson & Kele Stewart
CORAL GABLES, Fla. (August 13, 2019) – Professors Lili Levi and Andrew Dawson are named vice deans of the University of Miami School of Law. Levi, a Dean's Distinguished Scholar, has been chosen vice dean for intellectual life by Dean and M. Minnette Massey Professor of Law Anthony E. Varona. Dawson is appointed vice dean for academic affairs. Professor Kele Stewart also will continue as associate dean for experiential learning.
"As vice dean for intellectual life, Lili will inaugurate a new role at Miami Law designed to cultivate and showcase faculty achievements in scholarship and pedagogy, enhance our scholarship workshops series, support our tenure-track colleagues, launch and lead a new innovative pedagogy workshop series, help build our grants operation, and otherwise elevate and celebrate our community's intellectual life," said Varona. "Lili is a preeminent scholar with a sterling national reputation for her sophisticated and pathbreaking scholarship, and is a beloved colleague at Miami Law, which together makes her the ideal inaugural vice dean for intellectual life."
"Similarly, Drew is an ideal colleague to fill the new role of vice dean for academic affairs, which will include the duties typically undertaken by a law school academic dean – including curricular planning and oversight, the supervision of teaching, assisting with faculty promotion and tenure applications, and the recruitment of new visiting and adjunct faculty," Varona said.  "Drew is a talented teacher and scholar, and a trusted faculty leader known for his excellent judgment and organizational prowess." 
Levi is this year's chair of the AALS Section on Communication, Media & Information Law, and an elected member of the American Law Institute. She is an expert in communications and media law, and her current scholarship focuses on journalism, media law and policy, as well as threats to reporters and press freedom. Levi teaches business associations, copyright law, and media law. She has also taught international copyright law, defamation, and privacy law. 
Before joining the faculty in 1987, Levi worked as a litigation associate with the law firm of Paul, Weiss, Rifkind, Wharton & Garrison and as Broadcast Counsel with CBS, Inc.
"I am absolutely thrilled to have been appointed the inaugural vice dean for intellectual life," Levi said. "UM Law, where I have taught for over 30 years, has always been an extraordinary, intellectually vibrant, and diverse community. It will be my honor and pleasure to help promote Miami Law and all my terrific colleagues and to enhance the richness of our intellectual engagements on every front.  #Adelante, Miami Law!"
Dawson joined the faculty of Miami Law in 2011 after serving as a Kauffman Legal Fellow at Harvard Law School, clerking for the Hon. Jane R. Roth in the U.S. Court of Appeals for the Third Circuit, and clerking for the Hon. Peter J. Walsh, U.S. Bankruptcy Court for the District of Delaware. His research focuses on municipal and corporate bankruptcy, and he is an established leader in the field of cross-border insolvency.  
 "I'm honored to have been asked to serve UM Law in this new capacity," said Dawson. "I look forward to working with our extremely talented colleagues to ensure that our students continue to receive an elite legal education that will prepare them to address the complex legal challenges of our day."
Stewart co-directs the school's Children & Youth Law Clinic, supervising law students handling cases involving abused, abandoned, and neglected children as well as teaching family and juvenile law and legal practice. The Fulbright Scholar is responsible for administrative oversight of the law school's clinics, externships, and other practical curricula. 
"I was very pleased that Dean Stewart agreed to remain as our associate dean for experiential learning. UM Law is a national leader and innovator in clinical legal education, and Dean Stewart's prominence as a clinical scholar, educator, and practitioner serve our community very well and will help take our clinical legal education programs and initiatives to the next level."  
Varona, Levi, and Dawson assumed their new roles on August 1.