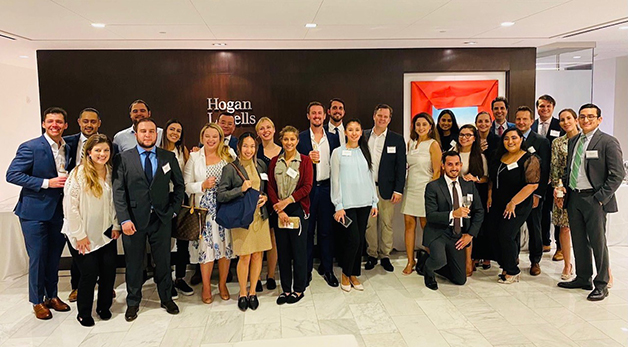 Very Young Arbitration Practitioners participants
In 2021, the Miami chapter of the Very Young Arbitration Practitioners officially launched. The group hosted a kick-off event at Hogan Lovells in Miami, Florida, with a welcome address from Daniel González, J.D. '88, a partner at Hogan Lovells and an adjunct professor for Miami Law's International Arbitration LL.M. The goal of the Miami VYAP chapter is to create more significant discourse among the new generation of arbitration professionals through the discussion and debate of essential topics in the field of international arbitration.
The Miami chapter joins the global VYAP network with other branches worldwide, including London, Paris, Mexico City, and Santiago. VYAP strives to support professional development through networking, debate, and knowledge sharing among very young arbitration professionals. All law students or lawyers under 35 interested in international arbitration are eligible to be VYAP members.
"With VYAP chapters across Europe and Latin America, it was time for Miami—a city that bridges all cultural gaps—to have its own VYAP chapter," said Ivan Bracho Gonzalez, International Arbitration J.D./LL.M.'19, executive committee member of the Miami VYAP chapter and associate at Hogan Lovells in Miami. "We were thrilled to meet and greet so many fellow 'Canes, and we look forward to providing them with opportunities to grow their network and careers."
Fellow executive committee member and Maria Gomez, International Arbitration J.D./LL.M. '20, also noted that "as alumni from the White & Case International Arbitration LL.M. program at the University of Miami School of Law we have received the support from arbitration practitioners in the Miami community, and we felt that it was our turn now to provide that platform for current students and young practitioners."
The Miami VYAP chapter was co-founded by Diego Perez Ara, Leon Cosgrove LLP, Jordi Martinez-Cid, a partner at Leon Cosgrove, Lolita Loly Sosa, an associate at Actuate Law, and current Miami Law International Arbitration J.D./LL.M. Joint Degree student Maria Hernandez.
"I am very excited about the launch of the Miami chapter of VYAP. It is essential to create spaces that connect experienced practitioners in international arbitration with young lawyers and law students to share their knowledge and industry experience," said Hernandez. "A focus on young lawyers and law students is crucial to paving the way for the next generation. I encourage all University of Miami students interested in the field to join and participate in the upcoming events."
Miami is also host to the annual ICC Miami International Arbitration Conference, which attracts over 600 practicing lawyers, arbitrators, mediators, and academics from around the globe and other vital events focused on international dispute resolution. These, together with Miami Law's prestigious White & Case International Arbitration LL.M. and International Arbitration Institute, highlight the wealth of practical and academic knowledge about international dispute resolution that can be found in Miami.