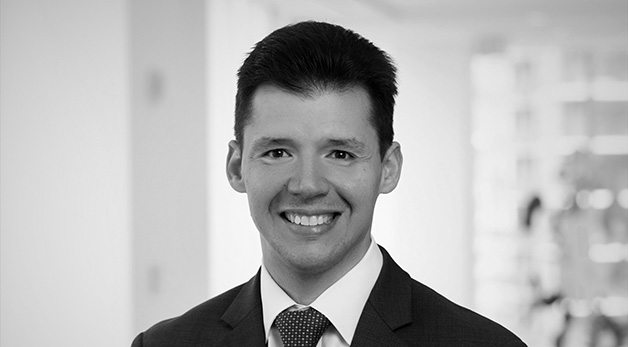 Ivan Bracho Gonzalez, J.D./LL.M. '19
Name: Ivan Bracho Gonzalez
Country of Origin: Venezuela
Year of J.D./LL.M.: 2019
Law School(s) attended: Universidad del Zulia (Venezuela); Andrés Bello Catholic University (UCAB) (Venezuela); The Ohio State University Moritz College of Law (LL.M), University of Miami School of Law (J.D/LL.M. in International Arbitration – magna cum laude)
Language(s): English & Spanish
Current Position: Associate, International Arbitration, Hogan Lovells LLP, Miami, FL; Executive Committee Member of the Miami Chapter of the Very Young Arbitration Practitioners (VYAP)
Relevant past position(s): Appellate Judge (Venezuela); Judicial Intern for the Hon. Adalberto Jordan (11th Circuit Court of Appeals); Dean's Fellow to Prof. Rosemary Barkett for Introduction to U.S. Law course (University of Miami School of Law)
Awards & Honors: Recipient of the University of Miami School of Law/Young ICCA 2017 Scholarship; International Moot Court Program
Publications: "La Protección Ambiental en el Arbitraje de Inversiones: Tendencias Actuales y Posibles Ramificaciones," in The Future of Investment Law in Latin America (Transnational Dispute Management (TDM) Special Issue), forthcoming 2022; "Interpretation of Article V of the New York Convention in the Eleventh Circuit: Industrial Risk Insurers," 74 U. Miami L. Rev. 1070 (2020) (co-author); "Withdrawal from Arbitral Proceedings," Note published on Jus Mundi (Sep. 2020); "Considerations in Investment Arbitration in Times of a Global Pandemic," 13 World Arbitration & Mediation Rev. 63 (2019); "Fifth Circuit Court Of Appeals Case Summary: Al Rushaid V. National Oilwell Varco, Inc.," Mayhew-Hite Report (The Ohio State Journal on Dispute Resolution), Volume 15, Issue 2.
What Are Your Current Position, Title, and Day-to-Day Tasks?
I am currently a third-year International Arbitration associate at Hogan Lovells in Miami. As a third-year associate, my day-to-day tasks range from being responsible for routine case management and case planning to drafting pleadings and other substantive briefs, motions, memoranda, and correspondence for the Hogan Lovells team, the client, to opposing counsel, and/or the tribunal. On a regular day, I usually attend or conduct internal calls and meetings, and meetings and conference calls with the client team, witnesses, experts, etc., for which I would have prepared beforehand. In-between calls and emails, or later in the afternoon if there are many, I then attend to any substantive tasks that I am working on, such as briefs, memoranda, substantive letters, or factual or legal analysis of claims, defenses, or case strategy in general. Last, although definitely not least, I do a status-check and recap of the tasks planned for that day, put in my time, and prepare for any meetings or discussions scheduled for the next day—if needed.
How Did Your LL.M. Studies Help You Build a Successful Career in the Field?
I have no doubt that my LL.M studies have been a major factor in my career. All of the program's features contributed—and continue to contribute—to my development and growth in the field. From every networking event, where I met almost all of my colleagues and peers in the field, to all the practical skills that I was able to start developing at the LL.M.'s practical skills courses (most of which I'm still developing), my LL.M studies are at the core of what I do every day and want to continue doing for years to come.
What Was the Most Impactful Experience During your Studies at Miami Law?
Tough question! If I had to choose one, I would definitely get in trouble, so I will highlight two of them: the International Arbitration LL.M. Practicum internships that I was fortunate enough to complete and where I met good friends and mentors—Harout Samra (J.D./M.B.A. '09) of DLA Piper and Juan Garcia of Hogan Lovells—who made sure that I ultimately got the most out of my internships under their supervision; and the International Moot Court Program, which introduced me to now-best friends, colleagues, peers, mentors, and so much more.
What Advice Would You Give an Incoming LL.M. Student for How to Make the Most of Their LL.M.?
Although it might sound like a cliché, my advice to an incoming LL.M student is two-fold. First, take as many International Arbitration classes and participate in as many program features as possible—without overdoing it, of course; and second, consider every class, networking event, practicum internship, and volunteer spot, as an opportunity to advance your career. Take advantage of it and take it seriously! Oh, and really make an effort to follow up with every person you get to meet or are introduced to. Sandra Friedrich—the program director—will tell you this a lot, and for good reason!
How Has the Graduate Experience Impacted Your Current Work?
Simply stated, being a 'Cane means being a member of the Miami legal community. Through the International Arbitration LL.M. program, the "U" provides students with a "community" that is not limited to immediate relationships and connections, but to a large network of graduates who are spread throughout all continents—all of whom are always willing to go the extra mile for a fellow 'Cane. This is something that, as a foreign attorney, I cherish and try my best to pay forward as it has been essential in both my professional and personal growth.
Read more about Miami Law's International Arbitration LL.M. Program