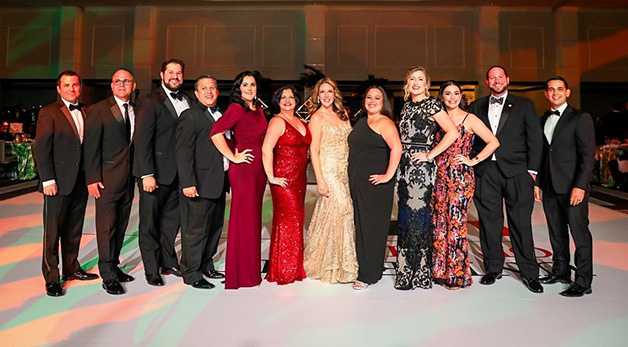 The Cuban American Bar Association CABA is the premier bar association committed promoting equality; increasing diversity in the judiciary and legal community; fostering respect for the law; preserving high standards of integrity, honor, and professional courtesy among members of the bar; providing equal access to and adequate representation of all minorities before the courts; facilitating the administration of justice; providing mentoring and scholarship to law students nationally; supporting the indigent community through the funding and administration of an effective pro bono legal assistance project; and other community programs.
Miami Law is proud to announce that several of our alumni were recently elected as CABA Directors at the organization's 48th Annual Gala. Miriam Soler Ramos, BSC '99, J.D. '02, was elected President of the Cuban American Bar Association. Ramos, the current Coral Gables City Attorney and career public servant, has served as a Director of CABA since 2015 and been involved with the organization since graduating from law school. She also serves on the Board of Directors of the Law Alumni Association.
Earning directorships on the CABA Board were Double Canes Haydee Sera, B.B.A. '06, J.D. '09; Nory Acosta-Lopez, B.B.A. '02, J.D. '05; and Emily Balter, B.B.A. '14, J.D. '17. Sera is a Partner at Weiss Serota Helfman Cole & Bierman, who practices contracts, elections, ethics, governmental affairs, procurement, public records, and sunshine law compliance and has held numerous leadership positions in CABA since 2018. Moreover, Acosta-Lopez is the Managing Attorney at Nory Acosta-Lopez P.A and focuses her practice on corporate law, banking, UCC-related issues, negotiable instruments, and labor and employment matters. She has served on the CABA Board of Directors since 2006 and was named CABA Member of the Year in 2012. Balter is an Associate at Bercow Radell Fernandez Larkin + Tapanes, where she practices land use, zoning, and environmental law. She also serves as the Editor-in-Chief of CABA Briefs–a publication that covers important legal issues, news about the community, and CABA updates.
Miami Law is proud of the alumni that are taking on leadership roles in the legal community on top of their already busy and demanding careers. Moreover, we would like to acknowledge the following individuals for their recognition by CABA:
Miami Law's Assistant Dean of Development and Alumni Relations, Georgina A. Angones, A.B. '72 – CABA's Amigo Award
Former University of Miami Assistant Provost Dr. Andy S. Gomez – CABA's Presidential Award
Florida Supreme Court Justice John Couriel – CABA's Honorable Mario P. Goderich "PAVER" Award
Wifredo A. Ferrer, AB'87 – Osvaldo N. Soto Legacy Award