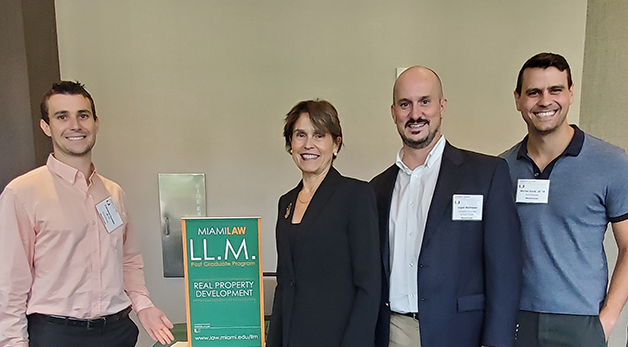 Cameron Kunstler LL.M. '91, Director Raquel Matas, Logan Wellmeier LL.M. '21, and Michel Ayub LL.M. '18.
Miami Law's Robert Traurig/Greenberg Traurig Real Property Development LL.M. is a unique program among law schools, allowing students to gain significant expertise in planning, structuring, and financing real estate projects. The RPD LL.M. Program offers a comprehensive curriculum taught by leading practitioners who are experts in their fields.
The experience and relationships alumnus Cameron Kunstler, LL.M '19, built in the RPD LL.M. Program led to his current position as an attorney with Fort Partners, a leading real estate and hospitality development firm based in South Florida. Kunstler grew up in Naples, Florida, surrounded by construction projects. Seeing their positive effects, he knew he wanted to make a difference and be a part of building a community.
Kunstler credits the Real Property Development LL.M Program for giving him the valuable skills and in-depth knowledge he needed to address complex legal and other issues of various real estate projects. "Experience is the best teacher, and the program provided me with hands-on expertise from real estate professionals who are the best in the business. The program prepares students for several legal careers in real estate by helping them develop leadership, problem-solving, and business management skills."
Kunstler's determination and drive landed him his first opportunity – an internship at Stearns Weaver, where he worked under the supervision of RPD LL.M. Advisory Board member Maria Gralia. He also interned in the Affordable Housing and Community Development Division at Legal Services, under the supervision of RPD LL.M. Professor Shahrzad Emami. The experience he gained in those internships, coupled with his substantive courses, equipped him to land the "best job" he could have imagined, he says, the one he has now.
"The program is very rich. It opened doors for me and made it possible for RPD Advisory Board member Michael Kashtan, general counsel at Fort Partners and RPD LL.M. Advisory Board member, to hire me as an in-house attorney."
Michel Ayub, LLM'18, also benefited from the connections and experience gained from the RPD Program. Ayub is a senior associate at Fort Partners, working along with Kunstler under Kashtan.
"I owe where I am today in my career to the RPD LLM program," he said. "Without the practical and all-encompassing education, coupled with the connections I made with professors, alumni, and other students, most of whom work in every area of the real estate industry, I wouldn't be where I am right now doing a job that I really love."
The program not only helps graduates find dream jobs, it helps real estate partners and general counsels identify and recruit talent for a very busy and active real estate market.
"I have been very impressed with the quality of the talent I have hired from the RPD LL.M. Program," said Kasthan. "The students are very well prepared to hit the ground running. They have a substantive grounding in foundational subjects like mortgage law, condominium law, commercial leasing, and other key areas, coupled with practical expertise gained through internships, site visits to construction projects and guest lectures where they learn from experienced developers. The professors who teach in the RPD LL.M. Program are leading practitioners and subject matter experts; and the site visits, internships and mentorships are undertaken by a "who's who" in the real estate industry. This is what distinguishes the RPD LL.M. Program from any other in the country," he added.
Students can take advantage of the professors' practical wisdom and build lasting connections that benefit them throughout their careers. In addition, the Program offers internships, site visits to construction projects, mentorships, and networking opportunities that allow students to also learn outside the classroom from some of the most accomplished real estate industry leaders in the country. This diverse program caters to real estate practitioners who want to stay current or pivot in their careers, law students interested in real estate, and international students who want to learn about U.S. real estate law practice.
More on studying real estate law at Miami Law
Read more about Miami Law's Real Property Development LL.M. Program