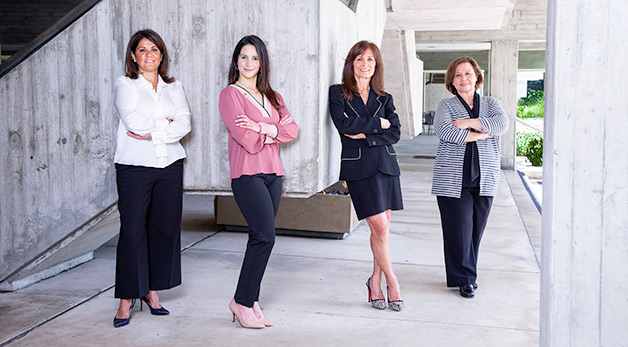 Lydia Sanchez, Yailin Nuñez, Jeannie Jontiff, J.D. '95, and Adys Pena (photo by Joshua Prezant)
The Litigation Skills Program has been a hallmark of Miami Law since trial advocacy started as a workshop in 1973 and morphed into the formal program in 1979. For the attorneys and judges who teach in the program and those who direct and oversee it, it is a labor of love well worth the effort when students emerge ready for trial advocacy, well versed in the intricacies of pretrial preparation to direct and cross-examine witnesses.
Acting director of the Litigation Skills Program, Jeannie Jontiff, J.D. '95, is passionate about the program because it can help all lawyers, regardless of career choice. "Litigation skills was my favorite class in law school because it taught me so much about being a lawyer," she said. "No other school has a program as comprehensive as ours, taking a case from complaint or indictment through civil and criminal pretrial preparation, bench trials, and final trials at the courthouse."
While an attorney at Kozyak Tropin & Throckmorton, Jontiff joined Miami Law's adjunct faculty in 2001 and has been teaching since then. 
"Our students learn so much about advocacy," she said. "Presenting an oral argument is very different from writing a brief."
Looking ahead, Jontiff said advancing diversity and inclusion is one of Miami Law's key goals, and the Litigation Skills Program will continue to reflect those principles.
Although the number of courtroom trials is declining, law firms, government agencies, and legal service organizations continue to seek attorneys with advocacy and presentation skills, said Lydia Sanchez, senior manager, Litigation Skills Program. That's why so many of Miami Law's second and third-year law students enroll in this six-credit course.
Drawing on her years of experience at Miami Law, Sanchez says effective litigation skills can be learned in a courtroom setting. "Any personality type can develop into an effective litigator, provided you recognize the importance of preparation and are willing to do the work," she said.
In fact, diving into the facts of a case, developing a legal strategy, and preparing an effective presentation are key skills for any attorney, Sanchez added. "Being able to stand on your feet and advocate for a position or program is just as important in a boardroom as in the courtroom."
Top-tier Faculty
At Miami Law, the Litigation Skills Program is taught by experienced judges and attorneys who are committed to educating the next generation of attorneys. "I have been super-impressed by the students, as well as my colleagues on the faculty," said Nushin G. Sayfie, Chief Judge of the 11th Judicial Circuit of Florida. "This program really gives students an opportunity to hone their skills, under the direction of attorneys and judges who provide practical experiences and applications."
Sayfie said one of the many benefits for students is gaining different perspectives from multiple legal professionals each semester. "Being a lawyer is an art and being exposed to those viewpoints is incredibly helpful when honing your craft," she said. "It's not just critiquing the presentations and answering questions – it's also about building your network and gaining mentoring relationships."
In her teaching, Sayfie has seen some students who are "naturals" in making presentations while others are shier in a courtroom setting. "I encourage those students to come out of their shells and find their own space. You have to understand your own personality and see what works for you. Being able to watch different lawyers in action gives you insights that will allow you to express yourself and own the courtroom."
Practical Skills Gained Go a Long Way
Eric I. Bustillo, J.D. '89, director of the Miami Regional Office of the U.S. Securities and Exchange Commission, has been teaching litigation skills for the past decade. "These are practical skills you can apply immediately after you graduate and are licensed to practice law," he said. "Whether you want to be a litigator, trial attorney, prosecutor, defense counsel, or simply advocate for your client, the skills you develop in this program are essential for lawyers."
Bustillo recalls a former student who became a prosecutor after graduation. "After her first trial, the judge said he thought she already had extensive trial experience," he said. "He was surprised to learn it was her first case because she already had the skills of an experienced trial attorney."
Even attorneys who do transactional work or aim for a career as corporate counsel can benefit from the Litigation Skills Program, Bustillo said. "You may be trying to persuade someone of the other side to complete a deal or make a presentation to the board of directors at a company," he added. "I highly recommend the program for every law student who wants to gain practical skills you can use early in your career."
Adjunct professor Rilwan Adeduntan, deputy chief of the International Narcotics and Money Laundering Section of the U.S. Attorney's Office, says students in the program develop confidence, regardless of personality, based on effective pretrial preparation. "The best trial attorneys know that they have to prepare in order to do their best in court," he said. "Once you have done that work, then all you have to worry about is presenting your case."
Adeduntan said litigation skills, like being able to think on your feet and becoming comfortable in making an argument, are readily transferable to one's personal life as well as a legal career.
"Best of all, you can learn from the faculty who collectively have hundreds of years of litigation experience," he said. "This is the de la crème in terms of faculty, so take advantage of this opportunity."
Knowing how to speak and present yourself in a courtroom can also build confidence that carries you through life, he added.
A Springboard to Success
For Miami Law students like Jorge Suarez, the Litigation Skills Program provides a springboard to a successful career. After taking the litigation course last spring, Suarez completed a summer externship program with the Miami-Dade State Attorney's Office as a certified legal intern.
"I started in May and was handling cases right away, talking to victims, attorneys, and judges in court," Suarez said, who recently was selected to receive the Daniel S. Pearson Memorial Scholarship. "I quickly learned that I really enjoy this work, especially being able to help victims." For instance, Suarez was able to represent a business owner who was being threatened by a former employee. "We were able to get a restraining order, and the case should be resolved this fall.
Now a third-year law student, Suarez says he plans to apply to the State Attorney's Office after graduation and pursue a career in criminal law. "It would be a privilege to work in the office and bring hope to individuals and families who have been the victims of crimes," he said.
"But regardless of your career direction, I encourage other Miami Law students to take advantage of the opportunities available in the Litigation Skills Program."
Read more Miami Law Magazine stories
Read more about Miami Law's Litigation, Arbitration and Dispute Resolution programs