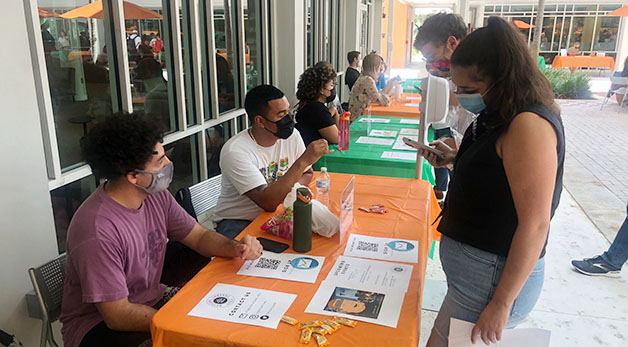 Miami Law's annual Student Organization Fair brought The Bass Bricks to life with the sound of student engagement August 31 and September 1 as students strolled through the central courtyard to meet with representatives from the 50 active on-campus student groups. The event offered a quick and convenient way for students to learn more about getting involved on campus and in the legal community. This year, the annual event was held over two days to ensure a socially distanced and safe event for everyone.
The Law School's student organizations run the gamut of groups focused on different philosophies, affinities, and practice areas to cater to the law school's equally diverse student body. Organizations offer students the opportunity to explore and develop their legal interests as well as provide a venue to further connect with their fellow students and seek mentors to guide them through law school.
The Student Organization fair is put on by the Inter-Club Council at the beginning of each school year.
"The annual student organization fair is an incredibly important part of student engagement and community building at Miami Law. We were so glad to hold the fair in person this year. The energy and enthusiasm on the Bass Bricks were palatable," said Amy Perez, Assistant Dean of Students. "We were delighted to have so many students from every class take part in the fair."
Participation in the fair gives student organization leaders the chance to showcase what the organization does and the benefits of getting involved. For many organizations, the fair is the first chance to promote their club to new law students. In addition to exposing students to the varied and unique opportunities for getting involved, the fair also provides first-year students with exposure to upper-level students who are excited to welcome them into the Miami Law family.
Organizations and journals participating in the fair included:
American Civil Liberties Union UM (ACLU-UM)
Alliance Against Human Trafficking
American Bar Association
American Constitution Society
Asian Pacific Law Students Association (APALSA)
Black Law Students Association
Business Law Society
Cuban-American Bar Association Law Student Division (CABA)
Child Advocacy Family Law Society (CAFLS)
Cannabis Law League
Cardozo Jewish Legal Society
Charles C. Papy, Jr., Moot Court Board
Christian Legal Society
Criminal Law Society
Dean's Cup
Disabled Law Students Association
Entertainment & Sports Law Society
Environmental Justice Network
Environmental Law Society
Federalist Society
First-Generation Law Association
Health Law Association
Hispanic Law Students Association
Human Rights Society
Inter-American Law Review
Insightful Mind Initiative
Intellectual Property Law Society
International Arbitration Society
International Law Society
International Moot Court Board
Immigration Students Law Association (ISLA)
Law Activity Fee Allocation Committee (LAFAC)
Maritime Law Society
Mental Health Collective (MHC)
Miami-Dade County Bar Association UM Chapter
Miami Law Women
Military and National Security Law Society
National Lawyers Guild (NLG)
OUTLaw
Phi Alpha Delta
Race and Social Justice Law Review
Real Estate, Probate, and Trust Law Society
Republican Law Student Association
St. Thomas More Society
Society of Bar and Gavel
Student Ambassadors
South/West Asian & North African Law Students Association (SWANALSA)
Student Bar Association (SBA)
Student Animal Legal Defense
Technology Law Club
Student organizations serve an important function in the law school experience, complimenting Miami Law's education with academic, professional, social, and career development opportunities.
See All Active Student Journals Organizations