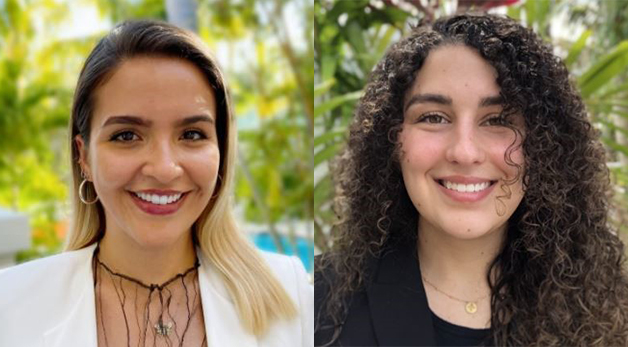 Daniela Torres, 2L, and Laura Silva, 3L 
Miami Law has a strong focus in public interest and social justice and this was recognized when the prestigious law firm of Squire Patton Boggs honored two Miami Law students – Miami Scholar and 2L Daniela Torres and HOPE Fellow and 3L Laura Silva – with its foundation's Public Policy Fellowship. This summer, Torres served as a Hurricane Maria Disaster Relief Sustained Impact Fellow, working on post-Hurricane Maria recovery issues in Puerto Rico and Silva worked with the Lawyers' Committee for Civil Rights Under Law's Criminal Justice Project in Washington, D.C., focusing on the criminalization of poverty.
The cornerstone of the Squire Patton Boggs Foundation is its Public Policy Fellowship Program which awards fellowships to exceptional law students who demonstrate a steadfast commitment to public service and public policy. Like Torres and Silva, these law students commit their summers to public service and to advancing public policy by working at nonprofit institutions, government agencies, and international legal organizations.
"Laura Silva and Daniela Torres were outstanding Fellows and members of the Foundation's Class of 2021," said John Oberdorfer, president of the Squire Patton Boggs Foundation. "Each came to the Fellowship program with a strong commitment to public service, and the contributions they made to the organizations they worked for were invaluable and had a sustained impact. They admirably followed in the footsteps of prior Fellows from Law School."
Torres, who graduated summa cum laude from the University of South Florida with a B.A. in Political Science, served as a junior board member with the Migrants Rights Foundation, was a volunteer with the Venezuela Awareness Project, and served as a cultural ambassador with Tampa Hispanic Heritage. She traveled to Colombia to assist with the Venezuelan humanitarian crisis and mentored youth from diverse backgrounds as part of Community Tampa Bay, an organization whose mission is to address discrimination in the Tampa area. At Miami Law, Torres is a student intern with the Immigration Clinic.
"I was thrilled to be a part of an incredible cohort of individuals who are zealous advocates for those in need," said Torres. "I worked with a nonprofit organization that serves underprivileged communities on the island. The projects I worked on included compliance work on the distribution of federal disaster relief funds and the creation of a cybersecurity workshop as part of their community outreach program. This was a very inspiring experience."
Silva, who graduated from Florida International University with a B.B.A in International Business, served as a HOPE Fellow during her 1L summer with Capital Area Immigrants' Rights Coalition, based in Washington, DC, where she drafted motions for detained, unaccompanied children affected by the migrant protection protocols. As a 2L, she interned with the Florida Justice Institute, challenging excessive solitary confinement and denial of medical treatment in the Florida prison system. She also worked with the Center for Constitutional Rights, researching, and drafting sections of an immigration report highlighting the pervasive nature of confinement to better inform policymakers, advocates, and judges on the excessive use of immigration detention. As a 3L, she is participating in the Human Rights Clinic.
"I was so humbled to have been chosen to be a part of the Squire Patton Boggs Foundation," said Silva. "The Foundation is dedicated to empowering the next generation of leaders to fight oppression. Although prevalent legal issues, including racial and criminal justice, voting rights, and environmental matters, plague marginalized communities, the Foundation prioritizes creating long-lasting impact to break institutional barriers to justice. The fellowship solidified my commitment to social justice and motivated me to continue working toward the greater good."
"The Foundation thanks Laura and Daniela for their contributions, and wishes them well as they continue, in the words of the late Congressman John Lewis, to 'answer the highest calling of [their] hearts,'" said Oberdorfer.
This honor follows the Squire Patton Boggs Foundation recognizing in 2020 Miami Scholar alumna Adrienne Harreveld, J.D. '19 as Distinguished Fellow and then Miami Law 3L Amanda Suarez as Public Policy Fellow. 
Read more about Miami Law's social justice and public interest program
Read more about Miami Law's HOPE Public Interest Resource Center