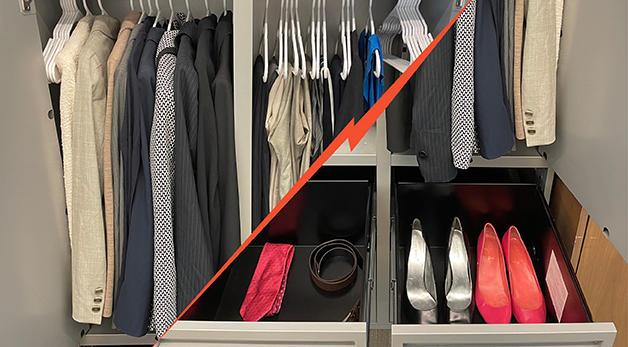 Sebastian's Closet is a Student Bar Association-led initiative that provides business professional attire for Miami Law students to borrow for interviews, networking events, presentations, and other occasions requiring such clothing.
This project was spearheaded by Miami Law graduate Alessandria San Roman JD'18. Beginning from the time San Roman was the Student Government President during her undergraduate years at the University of Miami, she noticed the growing need for business attire for students who lack the ability to afford it or simply need to borrow attire for a last-minute interview. When she was a student at Miami Law, she recognized that the same need existed within the School of Law. She worked with the Law Alumni Association to organize a clothing drive for law students. The clothing drive truly demonstrated Canes Care for Canes, with an outpouring of support for it and for our Miami Law students who were struggling economically.
After being inactive for a few years, the current Student Bar Association reopened Sebastian's Closet. Currently, Sebastian's Closet is housed in the law student lounge in the Shalala Student Center. Sebastian's Closet is accepting donations for all business professional attire and accessories in all sizes and colors and is particularly in need of menswear. Any alumni who wish to make a donation or have inquiries regarding this project can contact 3L SBA Senator, Carson Proctor, at cep149@law.miami.edu.