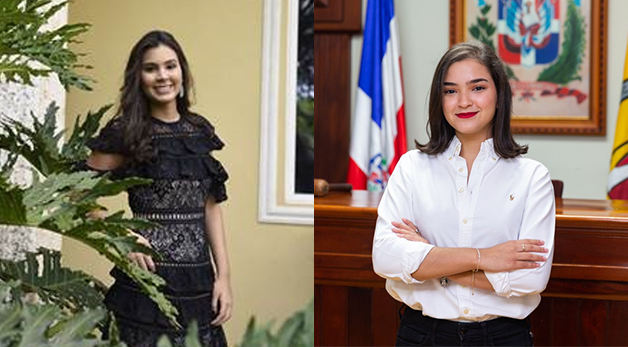 Daniela Ureña and Gisselle Nunez
Miami Law recently signed a dual degree agreement with the Pontificia Universidad Catolica Madre y Maestra, allowing students from PUCMM to enroll in an LL.M. Program at the University of Miami and customize their course of study so they can complete both their law degree and their LL.M. degree at the same time.
This fall, two PUCMM law students – Gisselle Nunez and Daniela Ureña -- were the first to enroll at Miami Law in the LL.M. in U.S. and Transnational Law for Foreign-Trained Lawyers program.
"We are delighted to welcome Gisselle Nunez and Daniela Ureña, the first two students from PUCMM in the Dominican Republic who have been able to take advantage of the Dual Degree Agreement recently signed by their school and Miami Law," said Carmen Perez-Llorca, assistant dean for International and Graduate Programs and director of the International Graduate Law Programs.
"Daniela and Giselle join three other students from the Dominican Republic who have started their LL.M. Program at Miami Law this fall, the largest group of students from the Dominican Republic we have had in any LL.M. class."
Nunez is in her final year of law school and has worked at a couple of law firms specializing in labor and torts law, gaining experience in litigation and legal writing. She helped draft and compose an appeal for the Court of Appeal and the Supreme Court of Justice.
"I decided to participate in the program to enhance my legal studies and to be able to pursue a career as a lawyer in the United States, with the goal of sitting for the New York Bar," said Nunez. "Although I'm still debating the specific area that I'm going to practice, I have found some that I have grown to enjoy torts. I chose Miami Law because of its renowned reputation as well as its location close to my home country."
Ureña is in her fourth year of law school at PUCMM where she worked in the Dominican Republic as a paralegal, handling corporate and intellectual property matters.
"I decided to enter the LL.M program through the agreement my university signed with the University of Miami because I saw an opportunity to learn about another culture and legal system completely different from mine," said Ureña. "My goal with this program is to acquire all the necessary tools and knowledge that will help me become a great lawyer and know how to approach international matters. I am looking forward to learning how negotiations and disputes between companies are truly developed and managed."
PUCMM and the University of Miami are two of 14 universities across Latin America, the Caribbean, Canada, and the United States that are part of the Hemispheric University Consortium. The purpose of the HUC is to foster collaboration among higher education institutions to enhance the quality and reach of their education and their research to develop innovative and impactful solutions for the social challenges facing the region and the world.
Read more about Miami Law's LL.M. in U.S. and Transnational Law for Foreign-Trained Lawyers program
Read more about Miami Law's LL.M. Programs