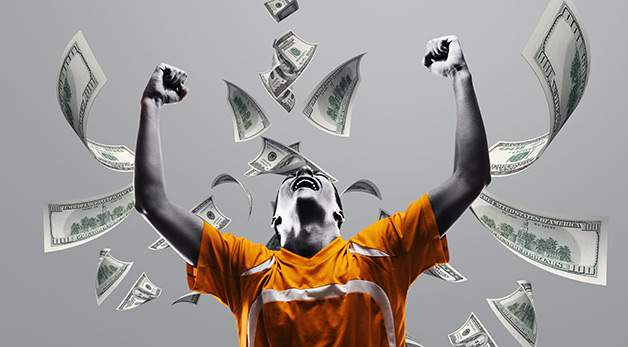 Over the summer, a change in the National Collegiate Athletic Association's name, image and likeness rules altered the college sports landscape, interrupting a foundation of amateurism that had stood for more than 100 years. Under the new NIL interim policy, college athletes may profit off third-party deals in exchange for the use of their name, image and likeness.
Miami Law's Entertainment & Sports Law Society, in conjunction with the Intellectual Property Law Society, presents a 40-minute panel discussion, "NIL: College Athletes Navigating IP, Marketing, and the Law," moderated by Greg Levy, director of Miami Law's Entertainment, Arts and Sports Law LL.M., about the NCAA's new name, image & likeness policy, its impact on college sports, and what to expect in the near future.
"The recent changes to allow college athletes to monetize their name, image and likeness will be among the most transformational changes to college sports in our lifetime," said Levy. "Miami Law's Entertainment, Arts and Sports Law Program convenes spaces to discuss topical issues and debate legal, business, and regulatory reform – this evening will be no different. The students have done a wonderful job in assembling a panel of accomplished experts who have been helping implement this change."
Joining the September 22 panel will be Boston College basketball player Brevin Galloway; Darren Heitner, founder of Heitner Legal, P.L.L.C.., who has represented numerous athletes and sports agents as legal counsel as well as helped draft the Florida NIL legislation; attorney and thought leader Dan Lust; and legal analyst Maddie Salamone, a former Division I lacrosse player at Duke University and former chair of the NCAA Student-Athlete Advisory Committee.
The event, happening from 6:30 p.m. to 7:30 p.m. EST, will include a 20-minute audience Q&A.
The virtual event is free and open to the public with registration.
"We are incredibly excited to host this timely panel on the hot topic issue of name, image and likeness with the Intellectual Property Law Society," Lily Fontenot said. "Our esteemed panelists will help us evaluate the first 75 days of NIL and how the space will continue to evolve."
For more information, contact the ESLS program at esls@law.miami.edu, Entertainment and Sports Law Society President Lily Fontenot at lff25@law.miami.edu or Intellectual Property Law Society President Victor Bruzos at vab56@miami.edu.
Read more about Miami Law's student organizations