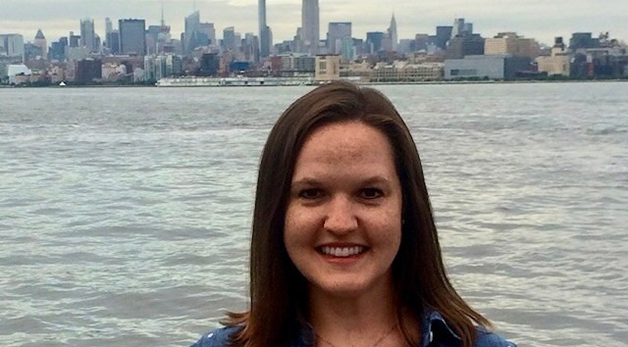 Joy Purcell, J.D. '08
Joy Purcell, JD' 08, senior attorney at the U.S. Department of Education in the Office of Civil Rights, jumped at the opportunity to assist unaccompanied minors in reunifying with their families in the United States. In March of 2021, when the U.S. Department of Health and Human Services put out a call for federal employees to volunteer on the Mexico border, Purcell did not hesitate to sign up for a thirty-day deployment. Purcell was assigned to a mental health team in El Paso, Texas and worked with minors, aged 13 to 17, by supporting them emotionally and ensuring that they had access to mental health support, medical care, and other resources available at the shelter. Although the days were arduous, Purcell says that the work was incredibly rewarding. By combining her passions and skills, she supported a larger mission to keep the children safe and reunite them with their families.
Purcell has long been committed to public interest and advocacy. Prior to law school, Purcell graduated from New York University where she studied Latin American Studies and Politics. While an undergraduate, she took courses on Caribbean politics and learned about the history of Cuba. She was fascinated with International Human Rights Law and public interest lawyering and decided to make a career out of it. Her focus on Latin American Studies led her to Miami Law, where her interests shifted toward immigration and health advocacy.
As a student at Miami Law, Purcell became heavily involved with Miami Law's HOPE Public Interest Resource Center, engaging as a HOPE Fellow and participating in several pro bono projects. She served on the Public Interest Leadership Board and interned with the Dade County Legal Aid Society. She also participated in the Community Health Rights Education Clinic, now known as the Health Rights Clinic. Her involvement in this clinic significantly influenced her future career by introducing her to the concept of medical-legal partnerships, starting with the clinic's partnership with Jackson Memorial Hospital. She served as a HOPE Fellow during her 2L summer, where she interned with the Harlem Office of the Legal Aid Society in New York and focused on health advocacy. While in New York, she worked with vulnerable communities, particularly those affected by HIV and AIDS. Her experiences at Miami Law set the stage for the future by "fueling" her with experience on the ground and helping get her first position as a lawyer.
After graduating from Miami Law, Purcell moved to Washington DC to continue her work in a medical-legal partnership through the Children's Law Center's Healthy Together Project. As she navigated her career, she simultaneously narrowed her focus by exploring various pockets of public interest advocacy. Through her ongoing experience, she was able to work with clients on various issues related to public benefits, education, and housing. While Purcell did not directly work on immigration matters, she managed to sustain her interest in the area by frequently working with immigrant communities.
In her current job with the U.S. Department of Education in the Office for Civil Rights, she investigates educational institutions receiving federal funding that are alleged to have engaged in discrimination. She reviews complaints, determines which complaints are appropriate for investigation, conducts investigations, and determines what corrective action may be necessary to address any substantiated discrimination. She can investigate any recipient of federal funding from the Department of Education. As a Spanish speaker, she handles many complaints involving recipients in Puerto Rico.
Purcell's advice to current law students?
"First, get as much real work experience as possible while in law school through summer internships, clinics, externships, fellowships, and pro bono volunteering," she said. "Second, take classes that are truly interesting to you. For students interested in government work, Administrative Law is fundamental. Through classes and experience, you must build a knowledge base that distinguishes YOU. Third, take mediation, alternative dispute resolution, and litigation courses to develop negotiation, interviewing, and litigation skills. Fourth, go to court to gain exposure to the justice system. Finally, keep an open mind. Your legal career will be a long one, so it's a good idea to keep an open mind and adjust to the twists and turns that life will bring you."
Read more about the HOPE Public Interest Resource Center
More on alternative dispute resolution, arbitration, and litigation at Miami Law