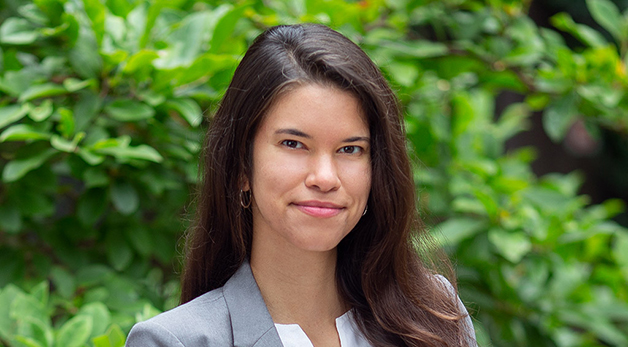 Katrina Tomas, J.D. '19
Miami Law alumna and Miami Public Interest Scholar Katrina Tomas, J.D. '19, is working at the intersection of environmental justice, land use, and public interest law at a private firm in California.
"My current work in environmental law grew from this special interest in urban planning, which I've fostered all these years," says Tomas.
Before entering Miami Law, Tomas obtained a degree in art history from the University of Pennsylvania, in which she focused on feminist performance art and urban architecture.
"During my time in Philadelphia, I worked at a public health clinic that served low-income neighborhoods, predominantly Latinx communities," Tomas says. "Public health is very much a part of urban development – specifically environmental and housing issues. I was tasked with looking into matters like lead contamination and pollution from industrial facilities, which all play into the social determinants of health. Ultimately, this brought about my interest in environmental justice and is part of what drove me to law school."
As a South Florida native, Tomas found Miami Law to be a natural fit. "Miami Law focuses on public interest lawyering, and I was interested in being surrounded by like-minded people – to keep the momentum going," Tomas says. She described that as a Miami Public Interest Scholar, she was able to pursue environmental justice lawyering. "So ultimately, the HOPE Public Interest Resource Center (which oversees the program) brought me to Miami Law."
"I spent the summer after my first year of law school doing national work on climate-related issues for the Sierra Club in California. In my second summer, I was very much at a local level with New York Lawyers for the Public Interest, a civil rights organization in New York, where the clients were community stakeholders," Tomas said. Although the positions differed in the public interest realm, she said they were key to where she is today. "It was, and still is, very important to me to know what issues my clients were having and what was really important to them."
Public interest lawyering in the private law sector
Now, in California, Tomas holds a position at a public interest environmental law firm. "As an environmental law firm for nonprofits, community groups, public agencies, and Native American tribes, we work on greatly varied and typically local public interest environmental projects," Tomas said, explaining the untraditional nature of the firm.
"Recently, I wrote a comment letter on behalf of a coalition of Native American tribes, advocating for the preservation of their sacred land and cultural resources. As an attorney, and specifically a non-Native attorney, it is incredibly important to me that I adequately represent Native voices by deferring to the expertise of Native communities and ensuring their concerns direct my advocacy." Tomas says she is both proud and grateful to work with the community so closely.
"I know environmental law can feel like a hard field [for students] to get into," Tomas said. "I had a very specific vision of the type of place I thought I would work – and the place I ended up didn't fit that image to a T, but it has provided an incredible experience and allowed me to engage in incredibly meaningful work." Tomas points out there are a lot of creative ways to be a public interest attorney. "Without compromising your job or values, think outside the box."
"It is incredibly important for public interest lawyers and social justice advocates to help each other stay motivated," Tomas said. "Don't give up. There is so much work to be done."
Read more about Miami Law's Miami Scholars Public Interest Program
Read more about Environmental Law at Miami Law