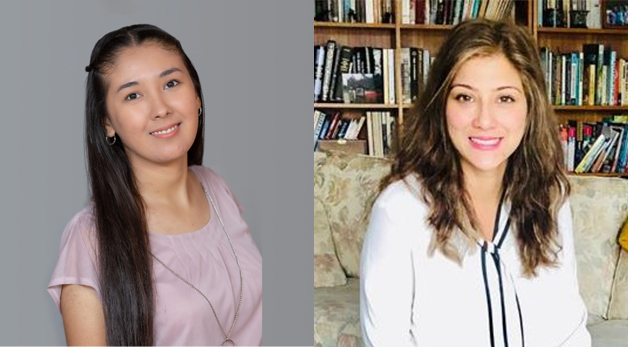 Sabina Akhroriy & Asma Khan
Hailing from Pakistan and Uzbekistan, respectively, lawyers Asma Khan and Sabina Akhroriy are the 2021 recipients of the Carolyn B. Lamm/White & Case Scholarship. They are now both pursuing LL.M. degrees in International Arbitration at Miami Law.
Before studying at Miami Law, Khan taught arbitration at local law schools in Lahore, Pakistan, and continues to be a partner at the Pakistan-based law firm of Surridge & Beecheno, where she has managed arbitration cases and advised international law firms. Khan received both her Bachelor of Laws and Master's in Political Science from the University of the Punjab in Lahore, Pakistan.
Learning from the Greatest Minds in International Arbitration
When asked about her time at Miami Law, Khan said, "Being taught by the best teachers and arbitration experts is one of the best experiences of my life." Khan intends to receive the maximum benefit of her studies at Miami Law. She describes the White & Case Scholarship as a "lifetime opportunity." Khan hopes her studies at Miami Law can better inform her teaching back home in Pakistan.
"Being female and one of the first Pakistani who has been awarded this scholarship is a great honor for me," Khan said. "I feel accomplished studying in Miami Law."
Akhroriy graduated from Westminster International University in Tashkent, Uzbekistan, with honors before beginning her studies at Miami Law. While obtaining her B.A. in Commercial Law, she interned at the U.S. and British Embassies in Tashkent and also studied abroad at West Liberty University in West Virginia as a U.S. Department of State Scholar.
Learning about Program via International Moot Court Program
Akhroriy learned about Miami Law after attending the Willem C. Vis International Commercial Arbitration Moot competition, where she met Miami students involved in Miami Law's International Moot Court Program. Now studying at Miami Law, she has enjoyed the experience and opportunities available. "Distinguished professors in the field of arbitration, networking opportunities to meet experts, sustained interactions with faculty, and research opportunities available to students make the program most appealing to me," Akhroriy said. She also mentioned how amazed she is by the curriculum offerings.
"I was completely stunned and happy after learning that I had received a full scholarship," Akhroriy said. "I am very thankful to Carolyn Lamm for investing in me."
The Carolyn B. Lamm/White & Case Scholarship was established in 2014 in honor of White & Case partner Carolyn B. Lamm, a Miami Law alumna and Distinguished Faculty Chair of the White & Case International Arbitration LL.M. She is a partner and litigator in White & Case's Washington D.C. office and is a prominent practitioner in international arbitration and dispute resolution, trade matters, and cross-border commercial federal court litigation.
After completing their studies at Miami Law, both Khan and Akhroriy plan to sit for the New York Bar Examination.
Read more about the White & Case International Arbitration LL.M.
More on studying international law at Miami Law