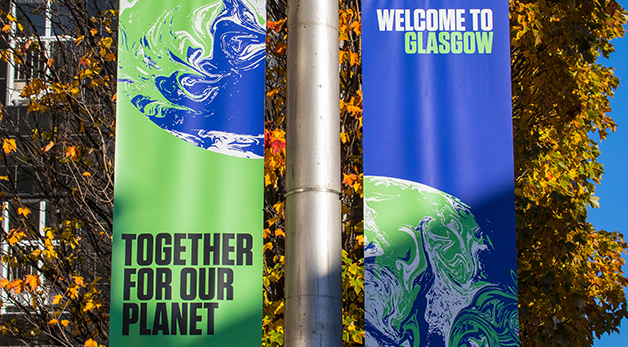 Climate Change Conference, 2021
Daniel Suman, an affiliated professor and adjunct faculty in Miami Law's Environmental Law Program and Maritime Law LL.M. and professor of environmental science and policy at the Rosenstiel School of Marine and Atmospheric Science, and Xavier Cortada, J.D. '91, a Miami Law Environmental Law Program affiliated faculty, will attend the 2021 United Nations Climate Change Conference in Glasgow, Scotland.
The summit has been called the world's "last best hope" of saving the planet from the most severe effects of climate change gets underway on Oct. 31 with some 20,000 delegates
Suman will be representing his home country of Panama and Cortada, a three-time University of Miami alumnus, launched his newest socially engaged art project ahead of the 26th annual global conference.
Role of mangroves central to discussion
As a member of the Panamanian delegation at COP26, Suman will participate in a panel discussion on mangroves, promoting them as invaluable blue carbon sinks.
Suman said the importance of mangroves shouldn't be overlooked in helping the planet to reach that goal.
But where they really pack a punch in the fight against climate change is in their ability to sequester and trap carbon. "Mangrove biomass and particularly mangrove organic-rich sediments are extremely important sinks for carbon," explained Suman, noting that these coastal systems trap carbon at a much faster rate than terrestrial forests. Some research, he noted, has shown that one hectare of mangroves, about the equivalent of two and a half acres, can hold as much as 328 tons of carbon.
But in some parts of the world, mangroves are in peril, their numbers dwindling because of encroaching urban and port development as well as agricultural expansion projects. And that is why it is vital that mangroves be protected, Suman said.
In many tropical and subtropical countries around the world, laws and regulations are already in place to protect mangroves, making it illegal to cut, remove, or damage them. But such laws can often be difficult to enforce, according to Suman.
"In order to see what's happening with mangroves, you need to have people in boats patrolling in the field," said Suman. "Yet, mangroves are relatively difficult areas to access. They're isolated, and many people do not realize their importance. So, enforcement can be a big problem."
Suman has been involved in education, mangrove management, and legislation efforts for more than 30 years, mostly in Central America, Cuba, and Mexico and pre-COVID-19 has led an interdisciplinary summer course for interested law and RSMAS students on Water Resources Law and Policy: China & Vietnam.
"I feel quite lucky and honored to be able to attend the conference," he said. "I'm happy to support Panama's efforts in addressing the global climate emergency and seeing how the process actually works will be an experience I can bring back to my students at the University of Miami."
Promoting change through art and activism
Cortada, a three-time University of Miami alumnus and professor of practice, launched his newest socially engaged art project ahead of the 26th annual global conference and will be there with thousands of artistic name tags to engage delegates and decision makers and amplify the voices of South Florida. In 2021, the Environmental Law Institute honored Cortada with its National Wetlands Award.
"Everyone in the world and here in South Florida will be impacted by what they do or what they fail to do," Cortada said recently at PortMiami, where Miami-Dade County Mayor Daniella Levine Cava launched the county's updated Climate Action Strategy ahead of her participation at COP26.
As part of Cortada's participatory art project "HELLO," thousands of name tags will be distributed to conference participants, who are to fill them in, not with their names, but with their fears, hopes, purposes, futures, or elevations. The idea is to spark conversations about the impact of the climate crisis on vulnerable communities around the world.
To bridge the 4,000-plus-mile distance between Miami and Glasgow, Cortada invited South Floridians to fill out their own name tags at cortada.com/hello, so their messages can be shared with policymakers, business leaders, and other conference attendees.
With Levine Cava as the first participant, "HELLO" is designed to connect those on site with the global community online, a process Cortada hopes will reframe the way we see one another and humankind's collective vulnerability, specifically to rising seas.
"I want the delegates in attendance to understand that the decisions they make over the next two weeks will impact the lives of every single one of my neighbors," Cortada said. "I want to introduce the world leaders to them. I want COP26 to know what Miamians fear and hope for."
The project spins off Cortada's celebrated "Underwater Homeowners Association," for which participants transformed political yard signs into markers indicating how high their homes sit above sea level. Similarly, on one "HELLO" name tag, participants can indicate their elevation, which in Miami averages about six feet.
"I am so honored to be able to use these paintings once more at this world stage, at this pivotal moment in human history, to try to bring attention to the urgency of the matter and the vulnerability we all face," Cortada said. "My purpose is to use art elasticity to work across disciplines, to connect and engage individuals in bringing about a better future for others and for those not yet born. We need all leaders from this county to understand how high the stakes are right now."
Faculty in Miami Law's Environmental Law Program
Both Suman and Cortada teach in Miami Law's Environmental Law Program. Director Jessica Owley and students attended the United Nations COP25 climate change conference in Madrid in December 2019. Owley applied for the University to become a United Nations accredited observer and UM was provisionally approved for official accredited observer status at the climate change treaty-making talks. Due to COVID-19 she was unable to secure student travel to this year's climate talks but knows Miami Law will be well represented with Suman and Cortada.
Read about Miami Law's Environmental Law Program