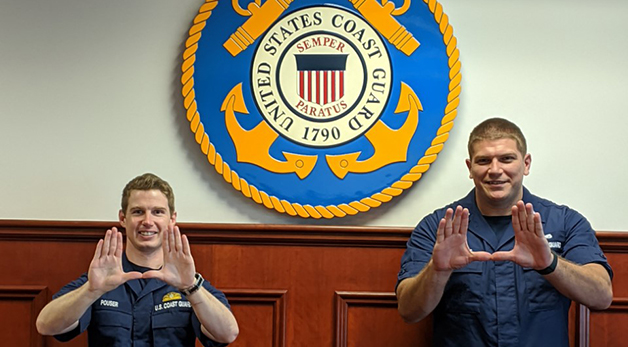 Parker Pouser, J.D./LL.M. '19 and Anthony "TJ" Rodrigues, J.D. '20 
Last year when Lieutenant Commander (LCDR) Anthony "TJ" Rodrigues, J.D. '20, moved to a new Coast Guard duty station, he discovered the office next door belonged to fellow Miami Law alum LCDR Parker Pouser, J.D./LLM. in Maritime Law '19. Both Rodrigues and Pouser were on active duty with the Coast Guard during their time at Miami Law and found themselves in the same station years later.
Unique Maritime Law Program
Pouser, who currently is stationed in Washington, D.C., was drawn to Miami Law because of its Maritime Law Program.
"Miami Law had one of the few maritime law programs in the country, and I knew from the beginning that I wanted to study maritime law," said Pouser. "What solidified Miami as my choice, however, was when I learned that I could earn the maritime law LL.M. concurrently with my J.D."
During his time at Miami Law, Pouser was a member of the University of Miami Law Review and the Maritime Law Society, and served as president of the Military and National Security Law Society. Pouser remembers his time studying with friends on the Bricks, but his most memorable experience was an on-campus lecture hosted by the Maritime Law Society.
"I am a huge scuba diver and love shipwrecks, so one of my most memorable experiences was a lecture with David Horan. He was the attorney who worked the case for the sunken treasure recovered from the Spanish Galleon Nuestra Señora de Atocha, which was one of the most valuable treasure salvages," said Pouser.
A graduate of the Massachusetts Maritime Academy, Pouser joined the Coast Guard in 2010 after taking a year off following his undergraduate career. During his first tours, he worked maritime law enforcement in Miami and then internationally before being selected for the Funded Legal Education Program, allowing him to attend law school for the Coast Guard.
"My current career goal in the Coast Guard is to take command of a Tactical Law Enforcement Unit before I retire," said Pouser. "Ultimately, once I finish my career with the Coast Guard, I would like to start my law firm, specializing in military and maritime cases."
Externship Opportunities Open Doors
For Rodrigues, who hails from Boca Raton, FL, a big positive of attending Miami Law was the many admiralty and Law of the Sea courses offered. Additionally, Rodrigues liked the many externship opportunities available.
"Being a law student in the city of Miami opens the door geographically to such a wide variety of externship opportunities both within and outside of the government," said Rodrigues, who received his undergraduate degree from Florida Atlantic University.
During his time at Miami Law, he externed as a law clerk for the U.S. Attorney's Office in the Southern District of Florida. He also was involved with the Military and National Security Law Society and served as a research assistant for Professor Bernard Oxman.
Married to Nikita with two daughters, Zeena and Remi, Rodrigues especially enjoyed the University of Miami's beautiful campus, which his family loved to explore. He also warmly recalls his 1L cohorts and "the shared struggles (growing pains) of going through the Litigation Skills program."
Rodrigues joined the Coast Guard as an enlisted reservist during his undergraduate career and became an active-duty officer in 2011. Since he became a judge advocate in 2020, he has prosecuted violations of the Uniform Code of Military Justice in trials.
"I enjoy the variety of cases so far," said Rodrigues. "In the short time I have been here, I have handled misconduct ranging from financial fraud to sexual assault. An interesting thing to note about military justice practice is that your cases can be all over the place. I currently have cases in Norfolk, Virginia; Alameda, California; and Miami, Florida."
As for his future in the Coast Guard, Rodriques looks to continue to litigate.
"I have respect for and interest in both criminal and civil litigation," said Rodriges. "If congress reforms military justice as currently proposed, judge advocates with criminal litigation experience will be more important to the military services than ever before. After my military service, I would like to work for the U.S. Attorney's Office."
While Pouser and Rodrigues are no longer in adjacent offices, they still are working on a case together and remain proud alumni of the U.
Read more about Miami Law's Maritime Law Program