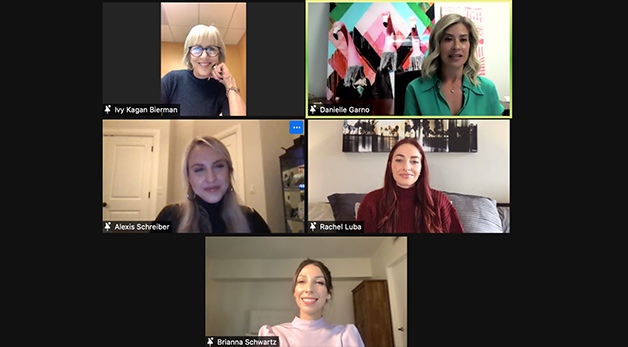 Women's Powerhouse Panel participants
Although some say the legal field is a "man's world," a panel of female leaders within the music, fashion and sports industries are paving the way to a more inclusive future.
Recently, Miami Law's Entertainment and Sports Law Society, in conjunction with Miami Law Women, hosted their annual "Women's Powerhouse Panel," where luminaries shared their experiences with an audience of law students and faculty. Alexis Schreiber and Brianna Schwartz, two University of Miami Law and Frost Master's in Music Business alumni, spoke about how being young females in the music industry has led to their ultimate success in beginning their own entertainment firm. As advised by Schwartz, "everything starts with connections," and it is so important to never stop seeking opportunities.
Danielle Garno, a partner at Reed Smith with a focus on the fashion industry, inspired listeners with her honesty about what it means to be a woman in law. She recalled her decision to attend law school thinking, "If these guys can do law school, so can I." Further sharing that the greatest adversity she faced working in law was with another woman, Garno emphasized that women need to support each other whenever possible. Moderator and head of the Entertainment Track of the EASL L.L.M, Ivy Bierman, added that women in law are all in this together, and if a woman is shining, it means that the men are seeing that.
All in all, the sports industry is historically behind in working towards equality for females in law. Rachel Luba, MLB player agent and member of Forbes 30 under 30, recalls being told that working as a sports agent is a boy's club and if she wanted a shot, she needed to have a law degree. As a gymnast and boxer for UCLA, she was truly passionate about the individual athlete, which fueled her journey to success.
"Women in law are expected to bring more to the table," and sometimes women need to "be bold" and demand respect, said Luba.
Overall, this panel proved that while women may be expected to meet a higher standard than the man next to them, anything is possible when you set your goals high and work for it. Attendees are already looking forward to the return of this annual panel next year.
"This panel is amazing year after year. Our members always leave feeling empowered and inspired by the amazing women on the panel," said Lily Fontenot, president of ESLS.
"It may take some twists and turns to get to where you want to be, and that is okay," said Bierman. If women in law continue to help support one another, the entertainment and sports industries will continue to be transformed by powerful and inspirational women.
Read more about Miami Law's student organizations
Read more about Miami Law's Entertainment, Arts and Sports Law Program