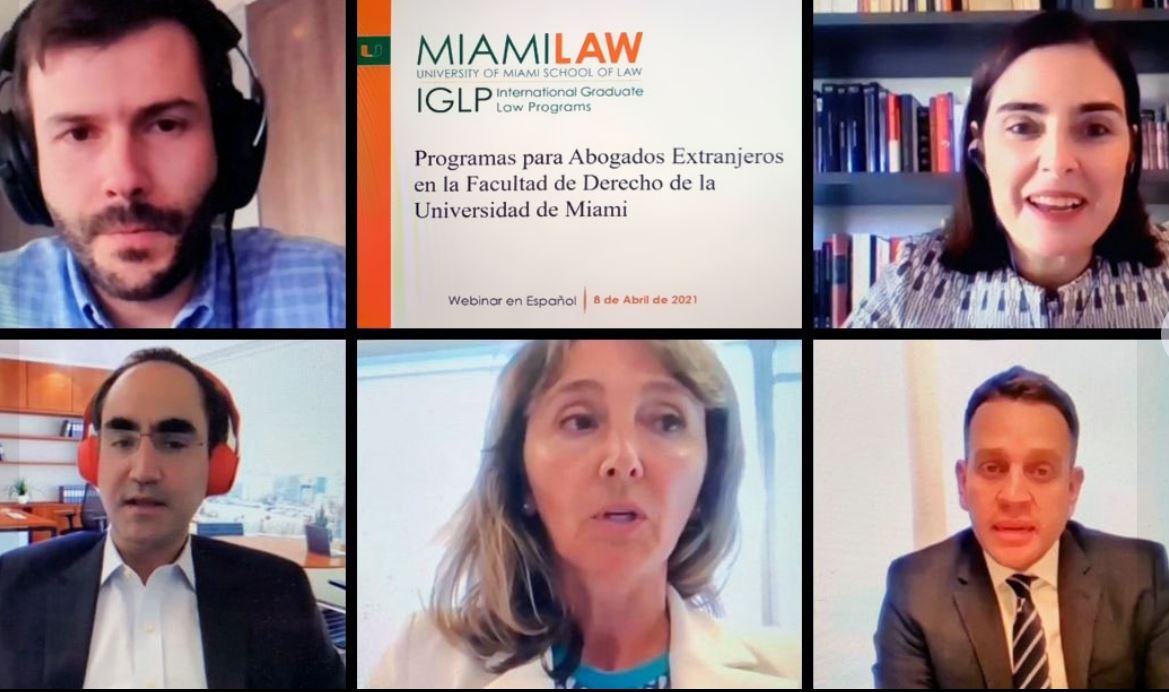 L to R top row: Juan Pablo Moyano, Carmen Perez-Llorca
L to R bottom row: Clemente Jose Vivanco, Begoña Guzmán Garate, Angel Alvarez Oliveros
Miami Law recently held an information session in Spanish for lawyers from Latin America and Spain about Miami Law's LL.M. in International Law with a specialization in U.S. and Transnational Law for Foreign-Trained Lawyers. Four graduates of the program spoke about their personal experiences and the advantages of studying law at Miami.
Hosted by Carmen Perez-Llorca, Assistant Dean for International and Graduate Programs, and Yazmyne Vasquez Eterovic, Associate Director of Miami Law's Career Development Office, the session had over 1000 registrants from across Latin America, the Caribbean and Spain. The alumni panelists emphasized the value of studying at Miami Law, located in an area known for being a global hub for international business and the gateway to Latin America.
Venezuelan attorney Angel Alvarez Oliveros, head of the Legal Department for Latin America and the Caribbean at Trina Solar, graduated in 2018 with a J.D./LL.M. in International Law. "I chose Miami Law because Florida is one of the most Spanish-speaking states in the United States, and there is a great possibility of meeting people similar to you," said Alvarez Oliveros. He explained the benefit of studying at Miami Law: "the companies that have connections in Latin America are based in Miami. Studying in Miami fosters connections and promotes networking with judges and top companies, which is an added value that no other university offers."
Begoña Guzmán Garate, a Soanish lawyer, earned an LL.M. in 2018. "Being part of this program has been a milestone in my career. It has given me a vision of American law and the opportunity to share experiences with colleagues from all over Latin America. The value that this university offers with academics and networking is not easy to find in other programs." Now, she works as the Global Legal Head of Private Banking at Santander Private Banking International.
2016 LL.M. graduate Juan Pablo Moyano, from Mexico, also shared his experience during the session. "When I decided to pursue an LL.M., I was working full time and needed a program that fit my circumstances. In that sense, the University of Miami gave me the flexibility I was looking for. It gave me the opportunity to study the subjects I was interested in, without forcing me to study only one subject. Not many universities offer this kind of flexibility." Moyano is an attorney in Holland & Knight's Mexico City office, where he focuses on domestic and international arbitration and litigation.
Managing Partner at Vivanco & Vivanco, Clemente Jose Vivanco, from Ecuador, spoke about the advantages of studying in Miami, an international commercial and business capital. "Miami's prominence opens many doors for the future: networking, career development, and implementing the skills the law school brings out in us. It is one thing to learn inside the classroom and another thing to learn outside the classroom. Regardless of where you see yourself practicing in the future, the University of Miami delivers a combination of experiences that allows you to witness what is happening in the United States and Florida while receiving a high-qualitya legal education. Miami Law enriches you as a lawyer and as a human being."