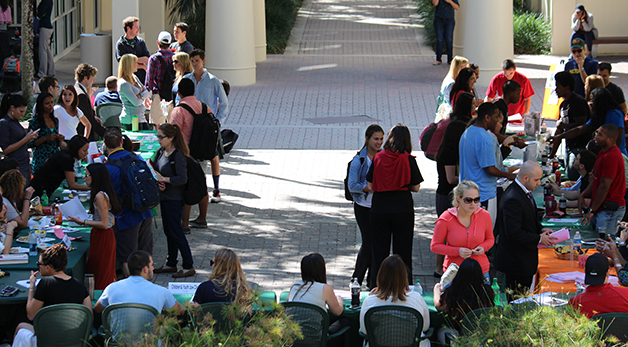 Public Interest Fair on the Bricks, pre-Covid
The HOPE Public Interest Resource Center held its annual Student-to-Student Public Interest Opportunities Fair on February 10th. While the event was virtual this year, it continued to provide the opportunity for upper-level students to talk with 1Ls and 2Ls about public service engagement during the summer and academic year, including internships, fellowships, and pro bono work. The goal of the fair was to allow students to share their experiences with their peers and provide information on how to navigate the hiring process.
The fair reflected the backgrounds and experiences of a variety of students, with upper-level hosts placed across several breakout rooms. The topics included criminal justice, civil legal services, immigration advocacy, environmental advocacy, impact litigation/policy, federal, state, and local government, and international/human rights work. Students were able to ask questions, seek advice, and learn how other students pursued their areas of interest.
1L Miami Public Interest Scholar Lauren O'Neil took part in the fair and shared that "the HOPE Public Interest Fair was a wonderful opportunity to hear from upper-level students and learn more about the variety of experiences that have shaped their time at Miami Law. I am so grateful for the students' willingness to share what opportunities transformed their career paths and developed their passion for public interest."
Ashley Docherty, also a 1L, shared a similar sentiment, saying "the HOPE Public Interest Fair gave me an opportunity to connect with students dedicated to public interest and to hear about their experiences. The fair gave me a chance to consider jobs that I hadn't thought of yet and to gain a better understanding of what summer opportunities might be a good fit. At the beginning of the semester, the HOPE Office also connected me with a student mentor who has really helped me navigate the first year of law school."
For the breakout room hosts, it was a pleasure to give back to other students and share all the opportunities that HOPE has made possible for them. 3L Gita Howard served as a HOPE Fellow at the Tibetan Legal Association in Dharamshala, India during her 1L summer and was a HOPE Fellow at the United Nations Office of Legal Affairs the following summer. She was able to share these transformative experiences as a host for the international/human rights breakout room.
Howard shared that "it was wonderful to connect with like-minded students at the HOPE Public Interest Fair. I was happy to share how the HOPE Office has continuously supported and connected me with opportunities through the HOPE Fellowship, and beyond."
The Student-to-Student Public Interest Opportunities Fair is just one of the programs that the HOPE Office is providing for students this year. HOPE Connects, which takes place on Zoom each Tuesday at 12:30pm, gives students the chance to drop in and chat with the HOPE staff, as well as other students, and to learn more about public service opportunities on campus and in the community. Check out HOPE E-News each Monday to stay updated on all of the upcoming programs or email umhope@law.miami.edu with any questions.