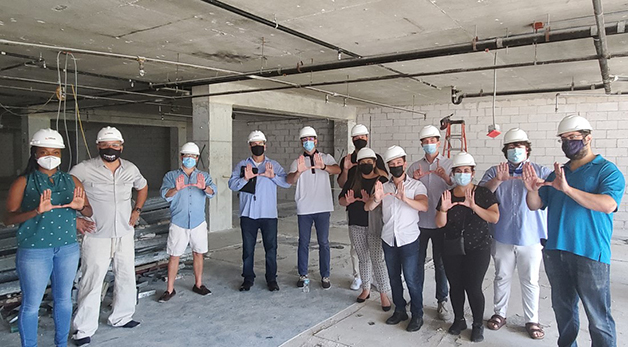 This Spring Miami Law expanded its Real Property LL.M. construction curriculum with the successful new course "Emerging Legal and Commercial Trends in Construction Projects."
As a member of the esteemed Real Property LL.M. faculty, longtime Professor Ross Altman's course covered everything from infrastructure project finance to insurance liability to international aspects of construction law to sustainable development.
A Course for Law Students as well as for More Seasoned Lawyers
As a complex industry, the course covered many nuances of construction. "The construction industry is huge, and a very significant contributor to our GDP. It encompasses many specialties, and the issues lawyers must address are very complex," said Raquel M. Matas, Acting Director of the RPD LL.M. Program. "Our goal is to produce practice-ready graduates, and this curriculum ensures our students are getting expert instruction and training on the most important topics."
William Miller, LL.M.'21, who now works at Meredith Environmental, Inc., in Birmingham, Alabama, took the course and found it beyond relevant. "I was an engineer with an M.B.A. before I was a general contractor and a broker, holding current licenses for both in Florida and several other states for over 2 decades, and have constructed many horizontal and vertical projects through companies in which I have held an interest.
"From an extensive practical background, I cannot think of many ways Ross could improve the content of his class."
Guest Experts Covered Critical Issues
The first session welcomed guest lecturer Fernando Rodriguez Marin, who focused on infrastructure project finance. Mr. Rodriguez Marin, a partner at the international law firm Bracewell, advises developers, investors, and financial institutions on infrastructure, energy, and real estate projects. A Spanish-trained lawyer, he has extensive experience in Latin American and Spanish matters and has worked on many infrastructure projects throughout Central and South America.
In the second week guest lecturer Clifford Shapiro spoke on Commercial General Liability Insurance & Construction Defects issues. A nationally recognized expert in the field, Mr. Shapiro has more than 36 years of experience resolving construction & related insurance claims, including 23 years leading national law firms' construction law practice groups.
International and Sustainability Aspects of Construction Reviewed
Guest lecturer Roberto Hernandez Garcia, Managing Partner at COMAD, S.C. in Mexico City, Mexico provided students with a wealth of information on important international aspects of construction law. He drew on his over three decades of experience working with U.S., European and Mexican construction teams in complex construction projects in Central and Latin America, and he was assisted in his lecture by associate Juan Pablo Sandoval García, also from COMAD, S.C.
Alumnus Jesse Keenan, LL.M. '05, Associate Professor of Real Estate and social scientist of the School of Architecture at Tulane University in New Orleans, Louisiana lectured on the Sustainability of Real Estate: Science, Design, Construction, and Risk Management. Keenan leads courses and seminars advancing the interdisciplinary fields of sustainable real estate and urban development.
Real Practice of Arbitration and Mediation
One of the most experienced mediators and arbitrators in U.S. and international disputes regarding construction and infrastructure, real estate, government procurement, and energy, Deborah Mastin gave an informative lecture on alternative dispute resolution methods. She is also a Florida Bar Board Certified Construction Lawyer, Arbitrator, and Mediator.
The course concluded with a mock mediation based on a complex and realistic fact pattern that demonstrated the real-life concerns and pressures confronting players in the design and construction process as well as the necessary lawyering skills practitioners must be able to master in order to successfully resolve disputes.
Industry leaders and construction experts from the RPD Advisory Board - architect Kobi Karp, developer Jerry Hollo, and contractor Walid Wahab - as well as highly experienced construction counsel from around the country assisted in the final mock mediation.
Miller agreed the class, and the final mediation, were more than worthwhile, "The mock mediation was very thorough, realistic, and quite impressive. Ross empaneled a cast of practitioners from various industry areas that could not have been more competent.
"Whether you know nothing about construction, or own and operate an extensive construction company, there is a substantial amount you should learn from this class."
More on Real Estate Law at Miami Law
More on the LL.M. in Real Property Development