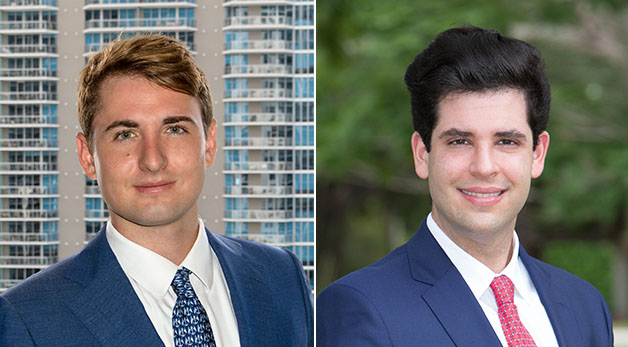 Students Victor Bruzos and David Fernandez-Fidalgo
The HNBA/Microsoft IP Law Institute chose two more Miami Law students – Victor Bruzos and David Fernandez-Fidalgo – to attend its summer institute, designed to provide opportunities for Latino students interested in intellectual property law, including patents, copyrights, trade secrets, and trademarks.
Miami Law Well Represented at Prestigious Institute
Sine the Institute began eight years ago, 12 Miami Law students have been chosen, with Hispanic law students from around the country competing for the highly selective 30 yearly slots. Guilherme Ferrari Faviero, Ileana Garcia, Antonio Hernandez, Mario Martinez, Luiz Miranda, J.D./LL.M. '17, Trish Ojea, J.D. '14, Lauren Gonzalez, J.D. '14, Dalisi Otero, J.D. '15, James Valencia, J.D. '17, and Jose Vasquez spent past summers getting up close to the D.C. IP institutions, courts, and law firms that are the spine of the practice. Many have gone on to careers in Intellectual Property.
Fernandez-Fidalgo has a bachelor's and a master's in biomedical engineering from the University of Miami. "I wanted to go to law school because I wanted to continue my mission of promoting technological innovation and improving the quality of life for patients suffering from health complications and disease," said the Coral Gables, Florida, native. "Prior to attending Miami Law, I had worked for several years as a biomedical engineer at the National Institutes of Health and at Walter Reed Military Medical Center, both located in Bethesda, Maryland. At the NIH and Walter Reed, I conducted cutting-edge clinical research by developing and implementing several novel research devices and protocols. I then worked as a Patent Examiner at the United States Trademark Office in Alexandria, Virginia, where I continued to promote innovation by reviewing and granting patent applications for cutting-edge medical devices and method of medical diagnosis being developed by various Fortune 500 and global healthcare companies.
"I fell in love with the practice of intellectual property law during my time at the USPTO. I specifically chose to attend Miami Law because of its connection to Miami and the greater South Florida community," he said. "I wanted to take the skills I had acquired while working at various federal agencies in the Washington, D.C., metro area and put them to good use supporting local innovators and start-up companies in Miami and throughout South Florida."
Bruzos, President of the Intellectual Property Law Society and a Miami native, graduated from Purdue University, majoring in industrial engineering, with a minor in statistics. He also received a certificate in entrepreneurship and innovation.
"I wanted to go to law school to merge the knowledge I gained in obtaining my engineering degree with what I believe a legal education will provide me with," he said. "In other words, I believe my engineering degree has afforded me a deep understanding of the natural physical world and systems that can be calculated, experimented on, or improved upon therein. Now, in law school, I seek to merge that understanding with an understanding of the human-made law, institutions of law, and practices thereof.
"Simply, there is no better place to do that than at Miami Law. The school provides students with a more than diverse and highly accomplished staff that maximizes legal preparedness and an ability to apply the law. Not to mention, the school is in one of the most rapidly growing cities in the country," Bruzos said.
Institute founded by Miami Law Alumnus
The IPLI is the brainchild of Horacio Gutierrez, J.D. '98, the then general counsel at Microsoft, who was concerned that so few Hispanic law students were pursuing careers in IP law. (Gutierrez has since departed for Spotify and been named by Billboard as one of the top music lawyers in the industry two years running.)
"The IPLI is a fantastic opportunity for students to really understand the key institutions, organizations, and lawyers in the field," said Professor Andres Sawicki, faculty coordinator of The Business of Innovation, Law, and Technology Concentration. "We're proud of the many Miami Law students who have participated in the program. The relationships they built through IPLI have played a huge role in launching their careers at top law firms around the country."
After 186 scholars have completed the program, approximately 67% of IPLI alumni are practicing IP or tech law.
"The HNBA/VIA IP Law Institute is a unique intellectual property and tech law immersion program for Latino law students," said Karen Warren, a J.D. advisor and director of judicial clerkships at Miami Law's Career Development Office. "The program was designed to increase Latino representation in both IP law and tech law. Over the years, our students have greatly benefited from this program which provides not only substantive training in these areas of law but the opportunity to build mentorship relationships and networking opportunities to help advance their legal careers. We are excited that two more Miami Law students, Victor Bruzos and David Fernandez-Fidalgo, have been accepted into the program this year."
The program, which educates Hispanic law students about IP and tech law careers, offers a robust curriculum and access to key government agencies and regulators in the fields. It provides effective mentorship relationships with top corporate and law firm practitioners and facilitates career development, placement, and leadership opportunities for IPLI scholars.
Institute Graduates Posited for Success
"My career goal is to promote the growth of the tech sector of the South Florida economy by providing legal support to local innovators and start-up companies so that they can freely innovate while they secure, enforce, and leverage their intellectual property rights to support their growth. My participation in the HNBA/IP Institute Program and my education at Miami Law will provide me with the knowledge, skills, and connections necessary to make my career goal a reality," Fernandez-Fidalgo said.
Bruzos says his goal is to become one of the top intellectual property attorneys in the nation.
"This is so, because, as an IP attorney I would not only be helping individuals legally protect their business ventures, but also and more broadly, protect the dreams they have made reality," he said. "Miami Law will certainly equip me with the skills necessary to meet my goal, as the school is an IP leader among law schools and provides an unparalleled legal education. Pair a Miami Law education with my participation in the Hispanic National Bar Association's Intellectual Property Law Institute program, which will connect me with a diverse group of IP professionals and guide me through complex and current IP matters. I'm sure I'm well on my way to actualizing my goal."
Read more about Intellectual Property at Miami Law
Read more about Technology Law at Miami Law