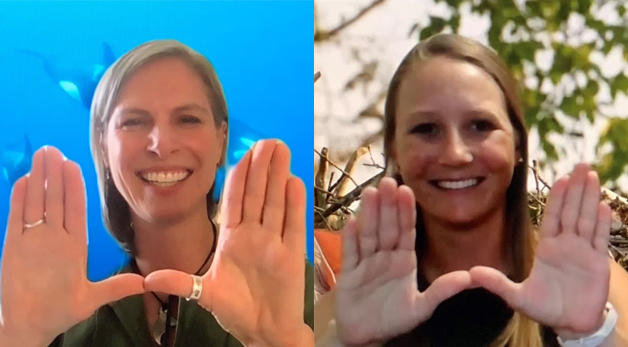 Natalie Barefoot & Kelly Cox
The HOPE Social Justice Summer Webinar kicked off with the recent Miami Scholar Public Interest Program environmental advocacy event with alumnae Natalie Barefoot and Kelly Cox who introduced students to some of the most pressing issues facing the Everglades and our oceans, and demonstrating the ways in which policy reform is essential and connected to our communities.
Miami Scholar alumna Barefoot, J.D. '05, a senior attorney with Earthjustice where she works on international oceans issues, shared an overview of the complexity of navigating policy across international waters and how jurisdictional challenges necessitate effective negotiation strategies and coalition-building across affected stakeholders. She described her own path to Earthjustice as a meandering one, taking her from private practice, to the United Nations, to the formation of her own nonprofit, to clinical education at Miami Law and ultimately to her present role at Earthjustice. She urged students to appreciate different experiences as helpful in broadening one's advocacy toolkit and to not give up on following one's passion.
"Through Miami Law's public interest programs, especially the HOPE office, I was provided support and opportunities to explore, understand and advocate for the environment," said Barefoot. "Sixteen years later, the HOPE Public Interest Resource Center continues to be an important network and source of inspiration for my work today."
Miami Scholar alumna Cox, J.D. '16, the newly appointed director of Everglades policy for Audubon Florida, introduced students to the organization's commitment to protect and restore the Everglades and wildlife. She emphasized the imperative to link advocacy strategies to science when designing initiatives and proposing policy reform. Cox spoke about how essential her joint degree experience at the University of Miami was in formulating her skillset as an advocate, indicating that the coursework at RSMAS, paired with her law school curriculum, has uniquely positioned her to be effective and led to a fulfilling career in the field she loves.
Prior to her work with Audubon Florida, Cox was general counsel for Miami Waterkeeper.
Cox encouraged students to dive into projects of interest and noted that her paper for a course led to her position at Miami Waterkeeper, a position which was created for her and expanded the capacity and advocacy of the organization.
"Miami Law's commitment to advancing public interest lawyering really helped to set me on my career trajectory," said Cox. "The HOPE office, in particular, was instrumental in providing me with the resources I needed to become the environmental advocate I am today."
"Natalie and Kelly are inspiring examples of the many Miami Law graduates who follow their passions and are at the epicenter of advocacy locally, nationally and internationally," said Assistant Dean for Public Interest & Pro Bono Marni Lennon, director of the HOPE Public Interest Resource Center. "By sharing their work in environmental justice, they provided our participants with insight regarding theories of change, the array of skillsets needed to build momentum around policy."
The HOPE Social Justice Summer Webinar brings together students, alumni, and community members to focus on the imperative for access to justice through the lens of Miami Law graduates and the work that they do to reform systems and advocate for and with clients and communities.
Read about the HOPE Public Interest Resource Center
Read about Miami Law's Environmental Law Program