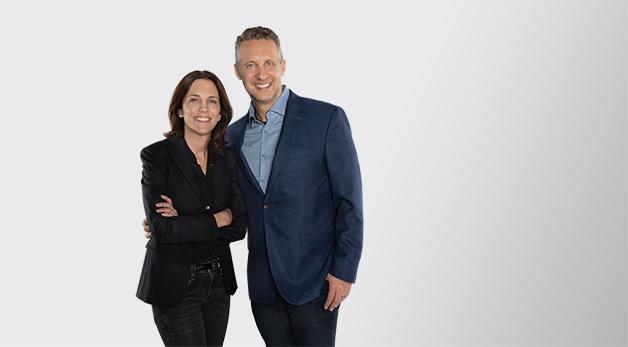 Laura and Judd Zebersky, J.D. '93
When we last left the Toymakers Zebersky "Lawyers in Toyland," in October of 2014, the Miami Law alums were raising three children, designing licensed toy lines and manufacturing over 1,000 items, and managing more than 100 employees, as well as donating some 40,000 products to children and families in need.
Almost seven years later, the three children are grown, and for Judd and Laura, both J.D. '93, who met at first-year orientation, toymaking is still a serious albeit fun undertaking. Jazwares is a global leader in consumer products, including toys, action figures, plush, collectibles, and musical instruments. They have onboarded investor Alleghany Capital Corporation, grown their portfolio to over 10,000 items, and acquired four other companies: First Act, Zagtoys, Wicked Cool Toys, and Kellytoy ; bought two brands: Russ Berrie and Applause, and bloomed into the seventh-largest toymaker in the world with more than 750 workers in 13 offices worldwide. (note to law students: currently 100 job openings.) Today, Jazwares creates toy lines for some of the most popular brands in the world, including: Fortnite, Roblox, Pokemon, Halo, Cocomelon, Cabbage Patch Kids, Squishmallows, Blippi, Micro Machines, Star Ways, Disney, AEW, and UFC.
Laura was recently promoted to president, overseeing Jazwares' global licensing, marketing, and sales efforts, and won the coveted Women in Toys Wonder Woman Award in 2017. Judd remains as chief executive officer, and they continue to drive forward the company's success together.
The company, Jazwares (many iconic toy companies are named for their founders: Hasbro was named after the Hassenfeld Brothers, Hillel, Herman, and Henry, in 1926), is named after Judd Aron Zebersky (the JAZ in wares), who three years after law school, took the plunge to start a toy company.
Obviously, their law school educations have played a role in contract negotiations. Still, to the Zeberskys, the training they received at Miami Law fundamentally changed their entire way of processing information.
"Law school allowed and taught us to think differently," says Judd. "As lawyers, we definitely have an edge, and I'm not talking about just reading contracts and understanding what they mean. It's more about how we are able to compartmentalize all of our thoughts and are able to dissect things in a way that most people don't.
"A perfect example is that in elements we learned to take the subparts and look at things independently and then when you put it together as a whole, we are able to understand what a problem is and how to solve that problem, to the best of our knowledge," he says.
Focus on Philanthropy
With the company's growth has come a similar explosion of their charity; now there is the Zebersky Family Charitable Foundation, pairing with other child-centric organizations like the Joe DiMaggio Children's Hospital in Hollywood and local schools. In years past, they have run a "storefront" at the Junior Achievement JA Biztown space at Broward College, mentoring and empowering tens of thousands of high schoolers with lessons like what it is like to be a CEO, CFO, or run a business.
To date, their company has given more than three million toys away, 470,000 alone during 2020 (during which they did not lay a single employee off due to the pandemic, unlike many other major companies). And Laura is on the board of the South Florida Make-A-Wish Foundation.
At the same time, the Zeberskys have given back to Miami Law. Judd sits on the board of the law school's Entertainment, Arts and Sports Law graduate program and has participated in LawWithoutWalls, Miami Law's experiential learning initiative that leverages intergenerational, cross-cultural, multi-disciplinary exchange to change the mindsets, skillsets, and behaviors of practicing and aspiring legal professionals. Laura has guest lectured on using a J.D. to pursue unique paths. Also, the company has a vibrant internship program drawing from Miami Law students; J.D. '20 grad Patrick Phelan interned at Jazwares and is now a full-time member of the legal department.
"One thing that having a law degree taught us is not to be reactive to a situation," says Laura. "That is something that most people in business just don't have; they react and then think about their decision later. We are able to break it down in real-time. That has been helpful, and often critical, to our success."