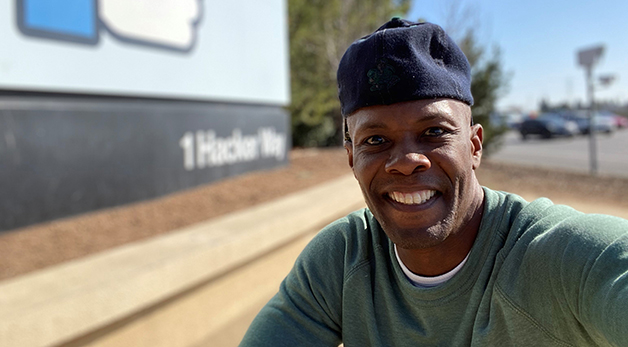 Rico Williams, J.D. '13
When Rico Williams arrived on the Hilarie Bass Bricks for orientation in 2010, he brought along his love of music and an interest in contracts and intellectual property. When he left, with entertainment law expertise with a joint J.D./Masters in Music Business and Entertainment Industries, he headed for the capital of technology: Silicon Valley.
More than a decade later the musician/business/tech/lawyer has followed his lodestar of "stay humble but stay hungry" that has led him from coast to coast to coast in pursuit.
Having just celebrated his one-year anniversary at WhatsApp, the Brooklyn Heights native is product counsel for business.
He cut his teeth post Miami Law at Apple – the company's first fresh-out-of-law-school hire – as one of the attorneys in the office of the in-house counsel. There, he not surprisingly joined the iTunes team initially policing regulatory policy and was in on the ground floor of the company's launch of digital advertising.
"That was the dream at the time," Williams said. "I was able to pull in my music background and my tech background and now I am lawyer doing all three so that was a lot of fun. That said, it is a challenging environment in which to learn. I had a unicorn of a boss who said, 'there is nothing out there that you could screw up that I can't fix so go out and learn. Following that playbook, I was able to grow with the company."
He tapped into other areas during his seven years there, including volunteering as a legal advisor to the executive review board on new healthcare apps, reviewing privacy concerns before launch. "I became fascinated about medicine and privacy and healthcare because of everything that was going on with Obamacare," he said.
The experience piqued his interest so much so that he left California to work for Envision Healthcare in Broward County where he worked with the radiology division as they made inroads into telehealth.
"Envision was an intriguing and absorbing dive," said the 40-year-old, "but ultimately not as satisfying as being in the heart of big tech. One of the great things about some place like Apple, or Facebook is the ability to gain experience in almost endless array of areas of practice."
Built from Strong Foundations
Williams brought a unique and widely varied suitcase of skills – from St. Peter's Preparatory School in New Brunswick, N.J., to degrees from George Washington University in International Relations and from Florida International University in geography, with a concentration in Latin American and Caribbean studies, serving for the Department of Defense's U.S. Southern Command as an information technology management officer, assessing security threats and web development, and receiving the Army Achievement Medal for Civilian Service. He also had top-secret clearance as executive assistant to the deputy commanding officer for the U.S. Army, serving 50 Latin American countries and territories. In that job, he was awarded the Army Meritorious Service Medal and Joint Service Commendation Medal.
But, he says, lessons learned at Miami Law have never failed to serve him well in his post-graduate life. "I was in Dean [emerita Patricia D.] White's experimental section of elements, which had a very holistic interpretation of law," says Williams. Another important life skill the single father of three took from his time in law school is his mindfulness practice, although now he practices every morning through his Oculus VR headset googles.
"The other thing that I give credit to is LWOW [LawWithoutWalls] because it bridges law and business," he said. "Specifically, in my work as a product attorney, it is so crucial for us to understand comprehensively the goal of the company," he said. "In my work I have to understand the lifecycle of the product. Learning a more business approach to law has really helped me navigate the inner workings of three Fortune 500 companies and that is not a skill that all lawyers come with. I don't know that I would have had that out of the gate if not for that experimental section and my participation in LWOW."
Read more about Miami Law's joint degree in Music Business and Entertainment Industries