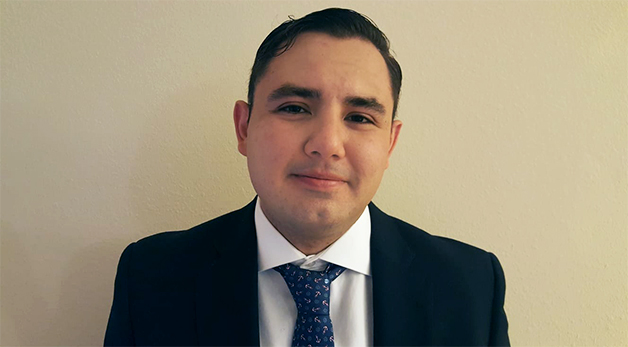 Cristian Zannier
Cristian Zannier has been named the 2020-2021 Young ICCA Full-tuition Scholarship winner. Born in Bolivia but raised in Chile, Zannier is the first Young ICCA Scholar to study in Miami Law's Intensive Legal English + International Arbitration LL.M. option.
Before attending Miami Law, Zannier worked as a civil, family, and international law attorney in law firms in Bolivia and Chile. He received his Master in Corporate Law and Bachelor of Legal and Social Sciences from the Universidad de Los Andes in Santiago, Chile, with distinction.
"I was extremely happy and very grateful to Miami Law for awarding me the scholarship," said Zannier. "It meant that I could fulfill my dream to do the prestigious White & Case LL.M. in International Arbitration and attend Miami Law." Zannier heard about the scholarship during a Latin American International Arbitration course he attended.
"I attended a Zoom session with Professor Carolyn Lamm," explained Zannier. Lamm is a Miami Law alumna, a partner at White & Case in Washington D.C. and also serves as Distinguished Faculty Chair of the LL.M. Program. "In that session, she talked about Young ICCA. She described what it is, what it does, and underlined the importance of this organization worldwide. It opened a new world that I was not aware of. I visited every day the web page of Young ICCA and read everything, and that allowed me to understand the important role it could have on my professional career and development in international arbitration law."
Miami Law partnered with the Young International Council for Commercial Arbitration to launch this scholarship in 2012 as Young ICCA is a world-wide arbitration knowledge network for young practitioners and students, which aims to promote the use of arbitration by exposing new practitioners from all corners of the globe to the international practice of arbitration.
Previous winners of the Young ICCA Scholarship, who hailed from Canada, Ecuador, India, Italy, Ukraine, the United States, and Venezuela, have found trainee positions and permanent placements with Clyde & Co. in Montréal, Canada; Debevoise & Plimpton in London, U.K.; DLA Piper in Miami, Florida; Hanotiau & van den Berg in Brussels, Belgium; Hogan Lovells in Miami, Florida; Hughes Hubbard & Reed in Miami, Florida; the International Centre for Settlement of Investment Disputes (ICSID) in Washington, D.C.; Reed Smith in Miami, Florida (formerly Astigarraga Davis); Three Crowns in Manama, Bahrain, London, U.K. and Washington, D.C.; and White & Case in Washington, D.C.
"One of the things that I enjoy most about studying at Miami Law is the law library because it has incredible quantity and quality of resources," said Zannier. "I also like that the professors, who are extremely qualified and prestigious, are dedicated to their students. They really want their students to learn."
Zannier is hoping to stay in the United States after graduating with his LL.M. degree and work in the field of international arbitration.
"We are very excited to welcome Cristian to our program," says Sandra Friedrich, Lecturer in Law and Director of Miami Law's International Arbitration Institute and LL.M. Program. "Our dedicated program staff and eminent international arbitration faculty strive to help students open doors to the world of international arbitration through the many training, networking and professional development opportunities our program offers."
More on the White & Case International Arbitration LL.M. Program