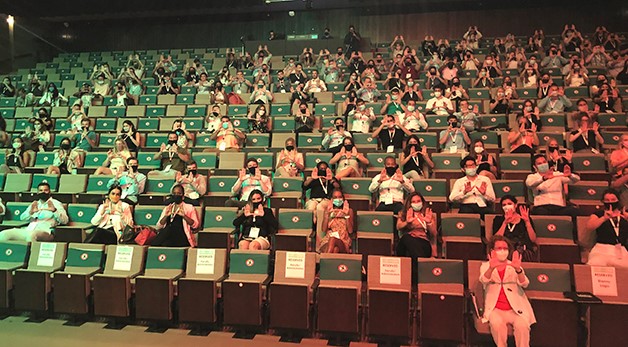 Miami Law held its first in-person orientation in more than a year and welcomed its academically strongest class ever of 393 students and the highest representation of women in Miami Law History.
With 43% more applications than last year, this year's highest credentialed class came from an applicant pool which was the largest since 2011 and Miami Law's acceptance rate was the lowest in its history at 30%.
Female Trailblazers in Law
The 225 women of the incoming 1L Class join the ranks of law school that has graduated a slew of preeminent women attorneys.
Three of the first trailblazing female law professors were connected to Miami Law. M. Minnette Massey, JD '51, served as Acting Dean from 1962-1965 and was one of a handful of women serving as law professors anywhere in the country when she joined UM in 1951. In addition, Jeanette Ozanne Smith, Professor of Law, was here from 1949-1976 and Soia Mentschikoff, Dean of the Law School and Professor of Law, was here from 1974- 1982, and she was the first woman to serve as president of the American Association of Law Schools (AALS).
In addition, that Miami Law has produced three women presidents of the American Bar Association (ABA) is remarkable. Carolyn Lamm, J.D. '73 was President in 2009-10, Hilarie Bass, J.D. '81 led the ABA in 2017-18, and Deborah Enix-Ross, J.D. 81 will become ABA President in August of 2022
The law school and university also have alumnae in positions of leadership. The current law alumni association president is Julie Braman Kane, J.D. '93 and the chair of the UM Board of Trustees is Laurie Silvers, J.D. '77. On top of that, 11 of Miami Law's 18 deans are women.
A Class with Diverse Backgrounds
The incoming 1L class is comprised of 89 different majors and spans diverse backgrounds with 41% from out of state and 13% born outside the U.S. from 31 different countries. On top of that, 61% speak a foreign language and nearly half, 46%, identify as a minority. In addition, 70% of the class is the first person in their immediate family to attend law school. Furthermore, close to 30 students have other advanced degrees including M.Ds. and PhDs.
Beyond the numbers, the diverse class has several students who did mock trial, debate team, or Model UN in college; worked for law firms; played college sports; worked for Human Rights Watch, AmeriCorps, JusticeCorps, Legal Aid, Teach for America, Guardian Ad Litem, and the United Nations; worked for state and federal government; and were teachers.
International LLM Students from Across the Globe
The diversity of the class also extends to students beginning in Miami Law's LL.M. programs. The 130 students come from 36 countries including: Argentina, Austria. Bahamas, Belgium, Brazil, Canada, Chile, China, Colombia, Dominican Republic, Ecuador, Estonia, France, Germany, Haiti, Iraq, Italy, Jordan, Mexico, Nigeria, Pakistan, Panama, Peru, Portugal, Russia, Saudi Arabia, South Africa, Spain, Sweden, Switzerland, Turkey, United Kingdom, United States, Uzbekistan, and Venezuela.