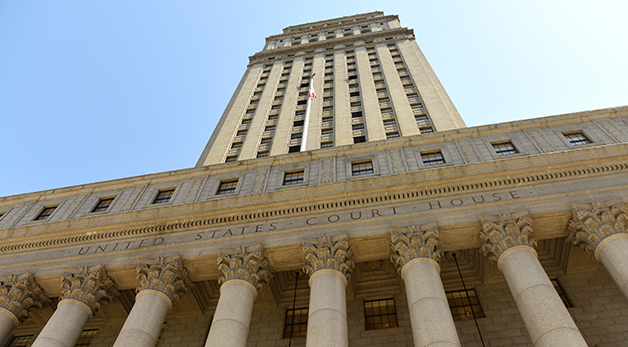 During her post-1L summer, Miami Law student and Miami Public Interest Scholar Lauren O'Neil has been interning with the office of the United States Attorney for the Southern District of New York, the chief federal law enforcement officer over eight New York counties, including the entirety of New York City. She has experienced criminal law first-hand, conducting legal research and writing.
A University of Georgia graduate with a degree in finance & international business with a minor in Spanish, O'Neil earned three CALI Awards and four Dean's Certificate of Achievement Awards during her 1L year at Miami Law.
O'Neil has had a wide variety of responsibilities during her time at the Department of Justice, but the rising 2L has risen to the challenge. "I assist with legal research and writing for the Criminal Division Assistant U.S. Attorneys' motions and responses to motions.
"I aid in trial prep and review discovery," she added.
Throughout her time at the DOJ, O'Neil has seen her work have a real-world effect within the justice system. "The first trial I worked on just concluded. Hearing the court rule in favor of the motion I worked on was so rewarding."
O'Neil has appreciated the chance to work towards a higher purpose and help people. "Generally, the work is so purposeful and victim-focused."
O'Neil chose this internship in order to pursue her main interests in the legal field. "I already had a strong interest in criminal law and public service before this internship."
The internship has only strengthened her interests and clarified what a career pursuing those interests would be like. "This internship exposed me to all different paths to public service and has expanded my intellectual interest in criminal law."
O'Neil has also discovered an affinity for a new potential residence. "I love NYC and can see myself coming back!"
Despite her strong interest in criminal law, O'Neil is still open-minded about what the future holds for her legal career. "I could see myself returning to the DOJ and pursuing criminal law for my career, but I'm looking at a number of opportunities and areas of practice."
In addition to her work at the DOJ, O'Neil has been active in the Miami Law community, serving as a Junior Staff Editor for the University of Miami Law Review as well as the Treasurer for both the Society of Bar & Gavel and Miami Law Women.
Regardless of what career path she chooses, O'Neil is certainly making the most of her time at Miami Law and the DOJ.