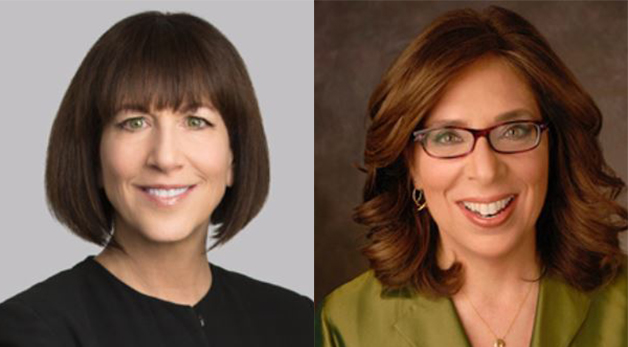 Ivy Kagan Bierman and Gwen Marcus
Ivy Kagan Bierman, entertainment partner and chair of the Entertainment Labor Practice at Loeb & Loeb, LLP, has been appointed as the new director of the Entertainment, Arts and Sports Law Graduate Program Entertainment Track. H. Gwen Marcus, formerly the executive vice president and general counsel at Showtime Networks, will join the program as a Distinguished Practitioner and advisor to the track.
Leaders in the field
Bierman and Marcus step into the role created by Harold Flegelman, the founding director of the program and, since July 2019, the director of the program's entertainment track. Flegelman announced in March that he would step away from his administrative duties and has joined EASL's advisory board and will continue as an adjunct professor, teaching his three courses on Negotiating and Drafting for the Business of Entertainment.
"We are thrilled to announce that, after the dean formed a search committee, we have found two incredibly talented people to assume Harold's administrative responsibilities and lead the entertainment track," said Associate Dean Greg Levy, director of EASL. "The committee and Harold agree that there is no one better suited than they to effectively sustain and build upon the strong foundation that all of us have worked so hard to create."
Bierman popular and longtime adjunct
Bierman has a long record of connection to the program having served as an adjunct professor for the past six years, teaching a very popular course on Union Organizing and Collective Bargaining Negotiations in the Entertainment and Sports Industries. She is one of a select few entertainment industry labor lawyers looked to for representation in guild and union and other labor matters by film and television production companies, digital companies and networks, cable networks, public broadcasting companies, distribution companies, film finance companies, national advertisers, and advertising agencies. Bierman's clients include, among others, the Academy of Motion Picture Arts & Sciences, AMC Networks, Buzzfeed, EOne, Experian, FilmNation, Fremantle, Google/YouTube, Industrial Media, Lionsgate, Skydance, Starz, and Turner Entertainment Network.
Bierman was recognized as the Entertainment Lawyer of the Year by the Beverly Hills Bar Association and is regularly recognized by The Hollywood Reporter and Variety as one of the top Entertainment lawyers in the country. She also received a Humanitarian Award from the Venice Family Clinic for her advocacy on behalf of women. Bierman is the vice chair of Civil Rights for the Anti-Defamation League.
"During the six years that I have been teaching as an adjunct professor at the law school, I have been incredibly impressed with the students, faculty and staff," said Bierman. "I am thrilled to expand and deepen my role with the law school. I am so appreciative of Harold Flegelman for helping me transition into the director role and Gwen Marcus for being committed to working with me to help the EASL Program become the top-rated program in the country."
Marcus brings industry knowledge
Marcus will help mentor and advise students, connect the program to the industry and provide general strategic guidance. She has enjoyed a four-decade career in entertainment law, having most recently served as Showtime Networks Inc.'s longtime executive vice president and general counsel. Marcus joined Showtime in 1984 as assistant counsel after serving as an associate in the entertainment department of the New York law firm Paul, Weiss, Rifkind, Wharton & Garrison, where she represented clients in the theater, film, television, and publishing industries.
"After a long, happy career at Showtime, I wanted to do something completely different, yet stay engaged in entertainment law," said Marcus. "Joining one of the leading entertainment, arts and sports graduate law programs in the country accomplishes that and then some! I look forward to collaborating with Entertainment Track Director Ivy Kagan Bierman and Dean Greg Levy and sharing my industry knowledge with the program's top-notch students."
Marcus has received numerous industry accolades, including from The Hollywood Reporter (Women in Entertainment Power 100 list and Power Lawyers Raising the Bar Award) and Variety (Power of Women Impact Report, Legal Impact Report and Inclusion Impact Report). She has also been honored by various nonprofit organizations, including the Minority Corporate Counsel Association (Paula L. Ettelbrick Award for advancing LGBTQ attorneys) and the LGBTQ Community Center of New York (Corporate Leader Award). Marcus currently serves as vice chair of the Board of TDF (formerly Theatre Development Fund), and on the Advisory Board of WILEF (Women in Law Empowerment Forum).
Highly sought-after program
Entertainment law is a demanding career that requires a firm grounding in substantive law, and practical skills relating to the entertainment industry. By studying the entertainment track within the comprehensive EASL LL.M., it is possible for students to fully prepare for the practice, thereby giving them a competitive edge in the search for employment in the industry. In addition, Billboard Magazine ranked Miami Law as a top 2019 music law school, in 2021 LL.M. Guide ranked the program in its top 10 list and also ranked Miami Law's program in the Top 10 in Entertainment/Media Law in 2021 and #2 most popular program in the U.S.
There is also a strong tradition of entertainment law at the University of Miami. The Entertainment and Sports Law Society is one of the most active student organizations and it has hosted an annual international symposium since 1997.
Planning for future of the program
Bierman and Marcus are already brainstorming about the Entertainment Track and the EASL Program and are excited to join the rest of our distinguished leadership team that includes Peter Carfagna (co-director, sports track), Trish White (co-director, sports track) and Stephen Urice, director, arts track).
"I could not be more excited or grateful to know that Ivy and Gwen are stepping into this role," said Flegelman. "Their commitment bodes well for the students, and for the future of the entertainment track and the program."
Read more about the Entertainment, Arts, and Sports Law LL.M. at Miami Law