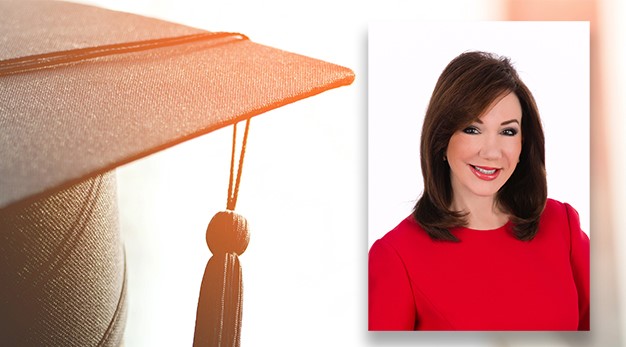 Commencement Speaker Laurie Silvers, J.D. '77
It was a moonshot idea, and in the beginning, the vision Laurie Silvers,  B.A. '74, J.D. '77, and her husband, Mitchell Rubenstein, had of starting a basic-cable science fiction channel struggled to get off the launchpad.
There was, no doubt, a market for it, as the highly successful South Florida attorneys surmised. After all, in the late 1980s, there were more than 60 million fans of extraterrestrials, space exploration, time travel, and all things sci-fi in the United States. The couple just needed a little advice.
So, they recruited two giants of the genre—Isaac Asimov, one of the "Big Three" science fiction writers of his time, and Gene Roddenberry, the creator of Star Trek—to sit on their board of advisors. "It took four arduous years of hard work to create and launch," Silvers recently told South Florida Business & Wealth magazine of their effort to start the SyFy Channel. "When it went live on the air as a national cable network, it was a moment that I will never forget."
Silvers' life has been filled with such moments, After all, the media entrepreneur, civic leader, philanthropist, two-time University of Miami alumna, and incoming chair of its Board of Trustees, has always been a visionary risktaker. So, it wasn't surprising that viewers in nearly a fifth of the 56 million homes with cable tuned in when the SyFy Channel launched with a prime-time presentation of Star Wars in September 1992— becoming the largest basic-cable debut since Ted Turner's TNT channel. Silvers eventually sold the channel to USA Networks, and it is now owned by NBCUniversal.
Her success in the industry, where her father already left an indelible mark as the owner of Illinois and South Florida cable and broadcast stations, didn't end there. Silvers went on to build a media conglomerate of radio, TV, cable, and internet. Today, she is co-CEO of Hollywood.com; the majority owner of four Florida FM radio stations; and a co-founder and the majority owner of the global esports organization Misfits. Minority owners include the Miami Heat, Orlando Magic, and Cleveland Browns.
The former chair of Miami PBS station Channel 2 and co-chair of South Florida PBS, Silvers also accomplished what others had failed to do for 20 years: She oversaw the merger of Miami and Palm Beach County's PBS stations, creating South Florida PBS, the seventh largest PBS station in the country. 
Before her successful media ventures, Silvers had a stellar legal career. It started at the University of Miami, where she studied psychology, political science, and philosophy as an undergraduate. She went on to excel at Miami Law, where she loved reading Supreme Court briefs and breaking down decisions to diagram the arguments.
After graduating, Silvers practiced communications law for ten years, adopting the philosophy that, to best represent her clients, she had to become a student of their business ventures. When one client also required a real estate attorney and tax attorney, she reached out to Rubenstein, an old Miami Beach High School classmate. The pair worked so well together they opened a law firm in Boca Raton, married, and had three children, all of them 'Canes. 
Along the way, Silvers never forgot her legal roots, her alma mater, or the community at large. Now vice-chair and chair-elect of the University's Board of Trustees, she has been a member for 15 years, and, along with her husband, a passionate supporter of the School of Law. Their generosity created an endowed distinguished professorship and created student scholarships, including one for students committed to public service. The Laurie Silvers and Mitchell Rubenstein Hall, which houses the school's award-winning clinics, was named in their honor.
She is also a life trustee of the Kravis Center for the Performing Arts in West Palm Beach, where she served on the board of directors and chaired its development committee. She continues to serve on the board of South Florida PBS, and is on the national PBS Foundation Board. A mentor to at-risk high school girls with the Miami-based "Women of Tomorrow," she also co-founded the Promise Fund, which helps underserved breast and cervical cancer patients access health care services. 
A recipient of the Women of Tomorrow Empowerment Award, she has received many other honors, including the Sun Sentinel's 2011 Excalibur Award, bestowed on outstanding business owners, and the Association of Fundraising Professionals' 2015 Outstanding Philanthropist. 
For her extraordinary vision and unwavering dedication to bettering South Florida—and for helping countless students reach for the stars—the University of Miami is proud to welcome Laurie Silvers as commencent speaker.
Watch Commencement on Livestream
More on Entertainment Law and Business Law at Miami Law