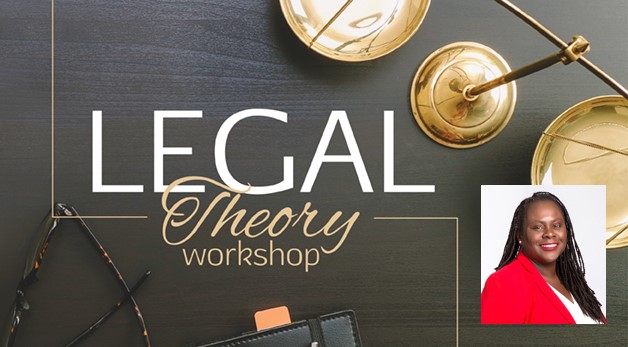 Miami Law's 2020-2021 Legal Theory Workshop Series line-up of distinguished legal scholars culminated on April 19th with a lecture by Boston University School of Law Dean Angela Onwuachi-Willig on "The Trauma of Injustice."
This academic year Miami Law welcomed a record number and diverse range of law schools and faculty to discuss works-in-progress and innovative legal scholarship over a range of important topics.
In reflecting on the series she organized over the past year, Professor Lili Levi, Vice Dean for Intellectual Life said, "I am just thrilled that Miami Law was able to host 22 fascinating speakers discussing a diversity of works in progress via Zoom during this difficult pandemic year. We thank each one of them for their thought-provoking contributions to our rich intellectual life! Appreciation is also due to our committed faculty and students who made time in their hectic schedules to engage with our numerous speakers. We look forward to many new voices come the fall!"
The first workshop kicked off on September 23rd with Professor Catherine Fisk of the University of California's Berkeley Law, who discussed her work "Protection by Law, Repression by Law: Bringing Labor Back Into the Study of Law and Social Movement Studies."
"Miami Law's Legal Theory Workshops are an important focal point for our intellectual life. I am proud of the depth and breadth of this year's Workshops. Our faculty welcomed diverse topics and scholars to present their works in progress and discuss timely topics in legal theory," added Anthony E. Varona, Dean of Miami Law.
The following scholars participated in the 2020-21 University of Miami School of Law Legal Theory Workshops:
September 23 - Professor Catherine Fisk, University of California Berkeley Law
"Protection by Law, Repression by Law: Bringing Labor Back Into the Study of Law and Social Movement Studies"
September 30 - Dr. Joan Mahoney, University of Southampton Law School
New Book Presentation: MI5, the Cold War, and the Rule of Law
October 5 - Professor Alan O. Sykes, Stanford Law School
"The Law and Economics of 'Forced' Technology Transfer and Its Implications for Trade and Investment Policy (and the U.S.–China Trade War)"
October 13 - Professor Franco Ferrari, New York University School of Law
"Limitations to Party Autonomy in International Arbitration"
October 23 - Professor Jonathan B. Baker, American University Washington College of Law
"Oligopoly Coordination, Economic Analysis, and the Prophylactic Role of Horizontal Merger Enforcement"
October 26 - Professor Joy Milligan, University of California Berkeley Law
"Remembering: The Constitution and Federally Funded Apartheid"
November 5 - Professor Charles C. Jalloh, Florida International University College of Law
New Book Presentation: The Legal Legacy of the Special Court for Sierra Leone
November 10 - Professor Kevin Michael Woodson, Richmond School of Law
New Book Presentation: Beyond Bias: The Hidden Hindrances of Race in the Elite Workplace
November 16 - Professor Jack M. Balkin, Yale Law School
New Book Presentation: The Cycles of Constitutional Time
November 30 - Professor Elise C. Boddie, Rutgers Law School
New Book Presentation: Geographies of Justice: The Hidden Stories of Race, Law, and the Search for Ordinariness in Everyday Spaces
January 26 - Professor RonNell Andersen Jones, University of Utah S.J. Quinney College of Law
"The U.S. Supreme Court's Characterizations of the Press: An Empirical Study"
February 9 - Professor Aya Gruber, University of Colorado School of Law
"Sex Exceptionalism in Criminal Law"
February 18 - Professor Gina-Gail S. Fletcher, Duke University School of Law
"Equality Metrics"
February 24 - Professor Jamila Michener, Cornell University
"Uncivil Democracy: Race, Power and Civil Legal Inequality"
March 2 - Professor Maxine A. Burkett, University of Hawai'i at Mānoa William S. Richardson School of Law
"Evolution or Collapse? Climate Change and the International Legal Order"
March 8 - Professors Alice M. Miller & Mindy Jane Roseman, Yale Law School
"The New Now and the Imperative to Re-think in "Rethinking Human Rights and the Criminal Law"
March 17 - Professor Alejandro Portes, University of Miami School of Law & Princeton University
"The Rise of National Populism: Causes and Possible Solutions"
March 30 - Professor Charlton Copeland, University of Miami School of Law
"Victory by Another's Name: Gay Stigma, The Ryan White Care Act, and the Development of a National AIDS Policy"
April 5 - Professor Kristin Nicole Henning, Georgetown Law
New book project: The Rage of Innocence: How America Criminalizes Black Youth
April 15 - Professor Ajay K. Mehrotra, Northwestern University Pritzker School of Law; American Bar Foundation
"Stanley S. Surrey: A Life in Taxes"
April 19 - Dean Angela Onwuachi-Willig, Boston University School of Law
"The Trauma of Injustice"
Due to the Covid pandemic, the 2020-21 Legal Theory Workshop Series was held virtually via Zoom.