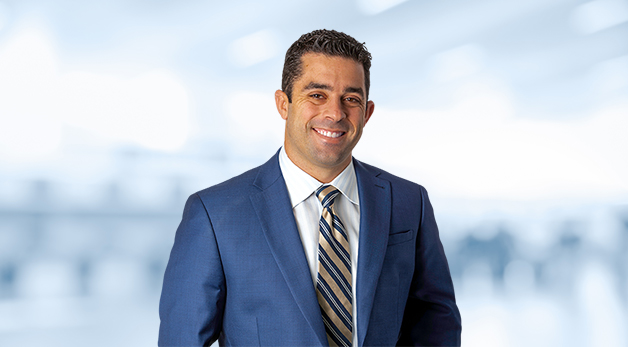 Anthony Soto, LL.M. '18
Greenberg Traurig associate Anthony Soto charted a unique path to real estate through the Robert Traurig-Greenberg Traurig LL.M. in Real Property Development.
"There is a constant societal pressure to know what you're doing with your life as a pathway to success," said RPD LL.M. '18 alumnus, which is exactly what he didn't do. He started off his college career with the hopes of becoming a professional baseball player.
When that didn't work out, he switched to studying law at Florida State University. After graduating with his J.D., he started practicing for a personal injury law firm in Tallahassee and Miami, and eventually opened his own firm with his partners in Louisville, Kentucky, practicing personal injury. He was what many would consider "very financially successful," but this was only the catalyst to the true beginning of his career.
After nearly five years, Soto became interested in real estate development - and if he wanted to make a change, he had to do it soon. That's when he left his firm, came back to Miami and pivoted into real estate - beginning his journey in the Robert Traurig-Greenberg Traurig LL.M. in Real Property Development at Miami Law.
What he did to get to where he is now is plain and simple - he walked into the LL.M. program to learn real estate development and break into the industry. He explained one of the most powerful aspects of the program is that all the professors "are actively practicing, experienced attorneys" and they will set you up to know the big players in real estate development from day one, he said.
"Don't be surprised if you find yourself routinely sitting across your professors in the negotiating table upon graduating," Soto said. The program itself lays out a strong foundation of all the integral pieces of real estate development and, as Soto explains, "Day one, when I walked into a large sophisticated real estate development project of the developer I was working for, I would sit in a meeting and I wasn't lost. I understood a lot of broad base issues, knew the language, and could see where the landmines were."
What made Soto successful wasn't just simple book smarts – it was the fact that he fully leveraged all the resources the program offers by combining what he was learning in the classroom with real life experience.
Aside from studying and taking in the information presented to him in the classroom, "I got to know my professors on an individual and personal level. I invited almost all my professors for lunch and even offered to pay, too. I wanted to learn about their journey through this industry and sought advice that could help me in mine."
That determination and drive is what landed Soto his first opportunity – an internship at Weiss Serota under the supervision of Joe Hernandez, a professor in the program, that turned into a long-lasting relationship. From there, another opportunity come about when RPD advisory board member Michael Kashtan, general counsel at Fort Partners, a real estate and hospitality development firm, hired him as an associate.
"From the first day Anthony began to work with me," said Kashtan, "he had a great attitude, always anxious to apply what he learned during the LL.M. program to our projects. He would arrive at 6 a.m. and walk the projects with our development team so he could learn as much as possible about the construction and development process. He would then work all day, seven days a week on legal issues. He never lost his drive; his progress toward becoming a seasoned developer's lawyer was amazing."
The experience, and the relationships he built along the way, led him to his current associate attorney position at Greenberg Traurig.
Soto is now serving as outside counsel to his former firm –Fort Partners – helping them in the development of the luxury Four Seasons Fort Lauderdale. Other projects he is working on at GT include the Bombardier Air Service Center in Miami, a 300,000-sq. ft. facility for the servicing of Bombardier's global fleet; and various projects of The Related Group, one of the country's largest real estate conglomerates whose general counsel, Betsy McCoy, LL.M. '07, is also a graduate of the LL.M. Program.
"There are a select group of lawyers who do very sophisticated real estate development work," said Soto. "One of the assets of the LL.M. program is that the professors are the lawyers working in this select area - and if you have the drive and passion for it, you will succeed – whatever that may look like for you. Real estate development is beyond the contracts and concrete; it's forming and becoming involved in a community which is quite literally transforming and shaping the community."
Read more about the Robert Traurig-Greenberg Traurig LL.M. in Real Property Development