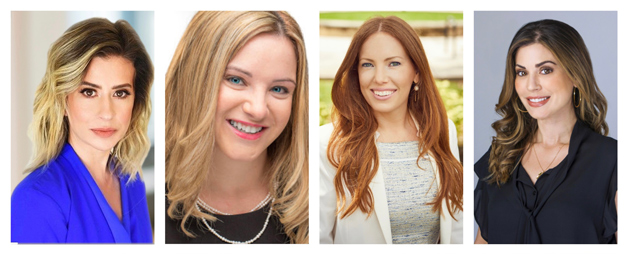 Pictured: Danielle Garno, Jaime Vining, Allison Freidin, and Cristina Scarano
Miami Law Women and the Entertainment and Sport Law Society hosted the Women's Powerhouse Panel once again this year. Moderator Jaime Vining, Adjunct Professor at Miami Law, was joined by the panelists, current students, and prospective students over Zoom. The discussion focused on the specific challenges women face in a male-dominated field and emphasized the importance of promoting other women within the workplace.
Panelists Allison Freidin, Danielle Garno, and Cristina Scarano are truly the definition of powerhouses. Allison Freidin is a Miami native and double 'Cane who graduated from Miami Law in 2010, and recently opened the Museum of Graffiti in Wynwood. Danielle Garno earned her bachelor's degree from UM and continued her education at Pepperdine University School of Law. She currently is the co-chair of Retail Law at Cozen O'Connor. Cristina Scarano is a Miami Law alumna who has been working in the entertainment industry for 10 years, and currently works at the British Broadcasting Corporation as the Vice President of Business and Legal Affairs.
"At some of the largest firms, women represent only twenty percent of partners, and only seventeen percent of equity partners," said Vining, noting the stark lack of representation of women in major positions at law firms. "These are not good numbers."
When asked what things make a company good for women to work in, Garno emphasized "mentorship and sponsorship. And they aren't quite the same thing." Scarano said that she had a successful woman within the workplace sponsor and advocate for her in the past, and that she tries to do it for other women. Freidin spoke on the mentorship program she is involved with, Women of Tomorrow, and the professional and personal guidance she provides to local high school students.
The women spoke of their successful careers and recent accomplishments, including locking down new contracts or exciting progress within their companies, but noted that imposter syndrome is always close behind.
"You have this idea you're not really where you are," said Scarano. All the panelists agreed that keeping tabs of what you've accomplished in a year, a month, or even for the day helped them to recognize that they have earned the positions they are in now. Freiden emphasized the need for support, saying "It's really important to have a woman who will remind you of the victories."
The panel wrapped up with a half-hour set aside specifically for networking, with each of the speakers heading up a Zoom breakout room and having more intimate conversations with students. Students were encouraged to share their thoughts on the discussions and to ask more direct questions.
Miami Law Women and the Entertainment and Sport Law Society look forward to continuing to host the Women's Powerhouse Panel annually.
Read more about Miami Law's student organizations.