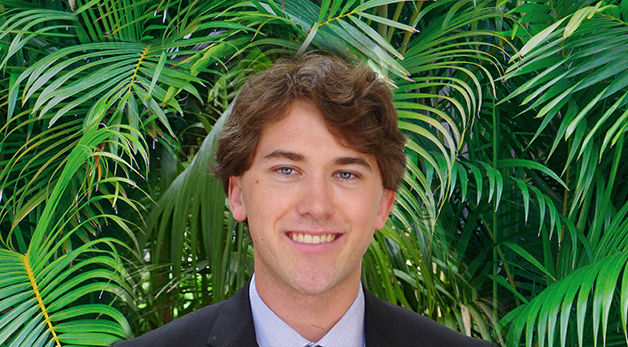 Thomas Voracek, JD '19
Thomas Voracek, JD '19, entered law school knowing that he wanted to become a criminal defense lawyer. The summer before his senior year of college at the University of Maryland, Voracek worked as an investigative intern at the Public Defender Service in Washington D.C.
"I will never forget the first time that I saw a client in an orange prison uniform," said Voracek. "That was an incredibly hard job and it showed me the incredible importance of public defense. I realized that this work is really important. I need to do this."
One year later, Voracek moved to Miami and enrolled at Miami Law as a Miami Public Interest Scholar.
Voracek seized opportunities during his first year of law school. Spring Break provided an early chance for meaningful work when he participated in an Alternative Spring Break Program through the HOPE Public Interest Resource Center, volunteering with the Mississippi Center for Justice in Jackson, MS. The following year, he led an Alternative Spring Break trip to Florida Rural Legal Services in Fort Myers, FL. Work in both programs increased clients' access to legal services and government benefits.
Among the many enriching experiences he had at Miami Law, Voracek reflects on the responsibility required in the Health Rights Clinic.
"I loved my experience working with the Health Rights Clinic," he said. "I had an entire year of managing cases: working with clients and receiving guidance from supervising professors. It was so important to have experience working directly with individuals to address their needs."
Summer internships supplemented direct services work and exposure to the criminal justice system. The summer after his first year, Voracek interned with the Federal Public Defender's Office for the Southern District of Florida in Miami. The following summer, seeking exposure to effective practitioners outside of Florida, he served as an intern with the New Mexico Law Office of the Public Defender in Albuquerque. These experiences combined with courses at Miami Law to build skills for a career in criminal defense.
"Miami Law is great for students interested in criminal work; there is a robust faculty with expertise in criminal law," Voracek shared.
After graduating in May of 2019 and taking the Florida Bar, Voracek clerked for Judge Milton Hirsch in the 11th Judicial Circuit of Florida in Miami. In May 2020, Voracek began his current job as an Assistant Capital Collateral Regional Counsel of Florida – Northern Region in Tallahassee, handling post-conviction litigation in both state and federal court for clients sentenced to death anywhere from Pensacola to Jacksonville. The work is client-centered and strives for greater justice.
"Everyday I come across a new reason or example of why we shouldn't have the death penalty." said Voracek. "There are so many problems with the state executing people."
For current law students interested in social justice work, Voracek recommends reaching out to the HOPE Public Interest Resource Center and taking healthy risks.
"Get out there and do work with organizations: get plugged in. HOPE advertises great opportunities. Also, take initiative and control your education. Look around the community. There are so many people who need help and support."
Among law students, Voracek displayed a rare certainty and focus toward working in criminal defense. He knows that most students will consider many interests and options. He encourages students to experience direct service work for many reasons.
"I am a firm believer that we need more lawyers to go out and work directly for clients," he said. "I encourage people to not shy away from looking at clients, with all their imperfections, and see the value, necessity, and important perspectives in this work. There are immense stressors, but there is also immense need."
Read more about the HOPE Public Interest Resource Center
Read more about the Miami Scholars Public Interest Program