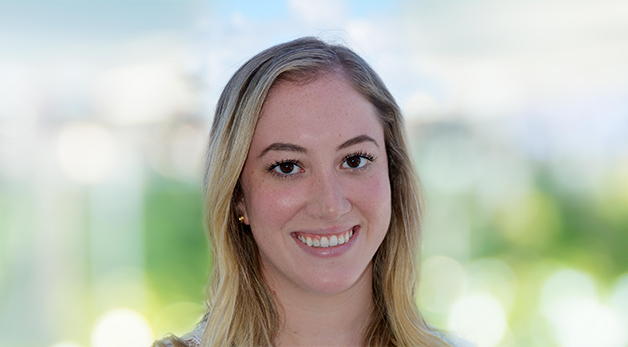 Maia Dombey
Maia Dombey, a Miami Public Interest Scholar and recent graduate, entered Miami Law with a determination to broaden her commitment to international law and international human rights.
While an undergraduate student at NYU, Dombey studied American, Israeli and Venezuelan politics and society. She served as an intern with United Nations Watch, a non-governmental organization based in Geneva, whose mandate is to monitor the integrity of the UN's Human Rights Council. While there, she prepared and delivered a statement to the Council in Geneva regarding genocide in Sri Lanka, a moment that helped solidify her passion for advocacy in an international setting.
As a 2L at Miami Law, Dombey was selected to take part in the Human Rights Clinic and the International and Comparative Law Review. She shared that these opportunities, as well as her participation as a Miami Scholar, reinforced her values and helped her freely navigate her options and interests during law school. They also provided her with experiences that would lead her down her current path.
During her time with the Human Rights Clinic, Dombey helped draft recommendations for the Canadian National Inquiry on Missing and Murdered Indigenous Women. She also worked on a groundbreaking domestic violence decision from the Inter-American Commission on Human Rights that found the U.S. in violation of its human rights obligations. Additionally, she was part of a team fighting to decriminalize vagrancy laws in Africa that disproportionately target women and non-binary people.
"These experiences provided interesting opportunities to learn how international human rights bodies work and to weigh the positive and negative effects of international interference," Dombey said.
Prior to her third year, Dombey was elected Editor-in-Chief of the International and Comparative Law Review. This leadership experience, and her previous advocacy in the area of international human rights, helped open the door for her to seek a position with the Supreme Court of Israel.
Following graduation and the bar exam, Dombey will serve as a Foreign Law Clerk for the Deputy Chief Justice of the Supreme Court of Israel. The Court sits as the country's High Court of Justice, with original jurisdiction to hear petitions for judicial review against the legislative and executive branches, and also functions as the top appellate court. Dombey's work will focus on using comparative jurisprudence to address legal issues in criminal, civil and administrative matters. "The job will be a crash course in both litigation and learning and studying international law," Dombey said.
Dombey's advice for students at Miami Law is to "actively seek out opportunities for yourself in the legal field and solidify your place on campus. Use all the help you can get from all the resources provided at Miami Law, but also put yourself out there - you are your own best asset."
More on Human Rights Law at Miami Law
More on International Law at Miami Law