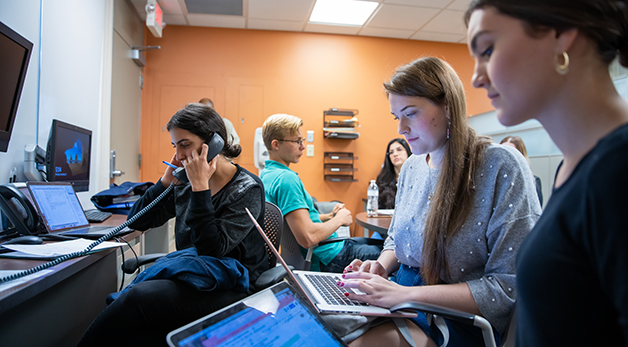 Innocence Clinic students in action
As the COVID-19 pandemic caused a shut-down of most of daily life in the United States, the work of the Miami Law Innocence Clinic persists.
"The pursuit of justice has to be tireless in the best of times and must continue even during the most trying times," said Clinic Director Craig Trocino. When the law school required virtual classes, the clinic adjusted all its functions.
By happy chance, the clinic has most of its files scanned and stored digitally. "Thankfully, the Innocence Clinic was prepared to work remotely before the stay-at-home orders prevented us from meeting at school," said second-year law student Mackenzie Garrity. "We are fortunate that most of our document review and communications can all be done online," added second-year Gabrielle Engle. In addition to the online access to files, clinic class meetings and student supervisory meetings transitioned online.
Second-year Anna Dellapa has "enjoyed our zoom classes and case staffings while we had them. They made it feel like I still had the presence of something familiar in my life during this time of uncertainty." Even though the virtual work was functional, there is no substitute for face-to-face contact and discussion.
"Compared to online discourse, I believe people are more likely to be engaged, throw out ideas," said second-year Sean Hood, "and work off of each other's thoughts when working in-person." Nonetheless, he said, the students at the UM Innocence Clinic are doing "everything in our power" to keep the clinic's work going.
While some of the work was able to continue without significant disruption, other necessary work became more of a challenge than usual. For instance, conducting routine fact investigation, contacting potential witnesses, and obtaining records from clerk's offices became cumbersome and problematic. "Prison lockdowns make getting in contact with our clients more difficult and stay-at-home orders have put a pause on some case investigation efforts," said Engle. Through this difficulty, the one constant is concern over the clinic clients' health while in prison. On April 7, 2020, there were four confirmed positive COVID-19 cases in Florida prisons.
As of April 30, there were 202 positive cases. The positive instances increased 50 times in just three weeks. "It is nerve-racking knowing that our clients are at a high risk of becoming infected by a coronavirus in prison," noted Dellapa. Because of such concerns, the clinic has undertaken some novel approaches to obtaining relief for its clients, including motions for compassionate release, allowing the clinic to advocate for its clients while presenting the students with new strategies by which to seek relief.
"I've appreciated the opportunity to work on COVID-19 related issues for the Clinic because it offers me the opportunity to continue making a difference for our clients even while I'm confined to my apartment," said Garrity, who was involved in the effort.
The clinic's work continues in the face of all adversity. "Dealing with adversity is the hallmark of being an effective lawyer," said Trocino. "I am heartened that the students of the 2019-2020 Innocence Clinic have shown resilience and dedication in working through this adversity. It bodes well for the future of lawyers."