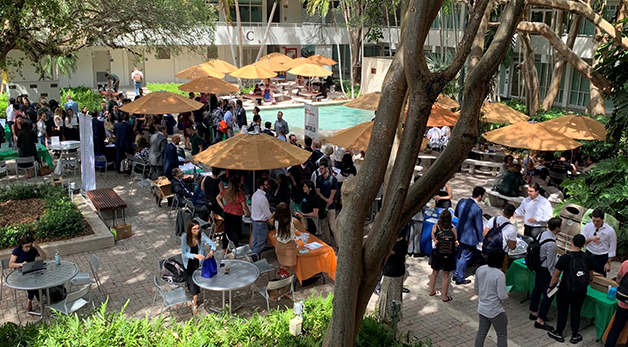 Career Fair on the Hilarie Bass Bricks
The LL.M. in U.S. and Transnational Law for Foreign-Trained Lawyers, part of Miami Law's International Graduate Law Programs, continues to foster excellent placements for its students, including externships, internships and practicum opportunities.
Under the leadership of Associate Dean for International and Graduate Programs Caroline M. Bradley and Assistant Dean Carmen Perez-Llorca, foreign-trained lawyers receive unparalleled support in augmenting their law studies with a Miami Law LL.M. and with U.S. work experience via internships and practicums.
Judicial Internships and Experience Working with U.S. Judges
Some foreign-trained lawyers are fortunate to work with U.S. judges. Yaremis Flores Marin, a J.D./LL.M. candidate from Cuba in the Program, is currently a spring intern with United States Magistrate Judge Jacqueline Becerra in the Southern District of Florida.
"I am so proud for having this opportunity and this wouldn't be possible without the guidance and support of all my professors and the International Graduate Law Programs of the University of Miami," Flores Marin says. "My legal communications professor, K. Renee Schimkat brought her wide practice of law experience to the classroom and provided me with all the writing skills needed to excel in this new challenge in my student life."
Yandrey Rodriguez Diaz, a J.D./LL.M. candidate in the Program hailing from Cuba, will work as a summer intern also with Judge Becerra.
"It is a great opportunity for an LL.M/J.D. student to work with a federal judge," Rodriguez Diaz says. "I am very excited and proud. I think there is no better way to really experience the American judicial system."
Practical Learning in Companies like Bacardi
Maria Urribarri Sanchez, a Venezuelan student in the U.S. & Transnational Law for Foreign-Trained Lawyers program, is doing a practicum at Bacardi, the legendary rum company headquartered in Coral Gables.
"Through the UM Career Development Office and the LL.M. Program, I was selected to participate in the practicum program with one of the largest and world-renowned companies in the United States: Bacardi," Urribarri Sanchez says.
"This practicum has given me the opportunity to develop my skills in the corporate and business area, along with getting experience out of the classroom and work hand-in-hand with top attorneys in the industry in the United States."
Optional Practical Training Results in Internship at Microsoft
Foreign-trained law graduates of Miami Law's LL.M. Programs may qualify for an employment authorization for a one-year period of optional practical training (OPT) in the United States immediately following their graduation. The OPT provides a valuable opportunity to gain practical experience in the United States.
Patricio Roffo from Argentina, a graduate of the LL.M. in U.S. & Transnational Law for Foreign-Trained Lawyers, is completing his one-year OPT internship as risk manager for Microsoft Corporation.
"Doing an LL.M. in the U.S., and particularly at the University of Miami opens you to an endless string of opportunities," Roffo says. "I graduated from my LL.M. in 2019 and immediately after, started working as a Risk Manager for Microsoft Corporation, today´s largest corporation in the world.
"Now, it´s been eight months working for Microsoft (four more months to go) with serious opportunities to stay within the tech giant after my OPT period," Roffo says. "I carry out an end-to-end review of high-risk deals all over Latin America and occasionally give support to Middle East and Asia. My career growth and exposure are astronomical and at hard to match pace."
Direct Interaction with U.S. Lawyers and Firms
Veronica Maria Orantes Orellana, a native of Guatemala and a candidate in the J.D./LL.M. in International Law Program, was selected for the coveted practicum at the international law firm of Holland & Knight.
"The H&K practicum has allowed me to continue to develop my practical skills and keep up with the current trends in transactional practice, while receiving invaluable mentorship from attorneys that are at the forefront of their fields," says Orantes Orellana.
"It has exposed me to real life, domestic and cross-border, deals while enhancing my network in Miami and the LatAm region."
Roffo agrees the first-hand work experience has brought the benefits of his LL.M. full circle. "First and foremost, the personal, academic, and professional growth down the LL.M. road was way over my reasonable expectations.
"Not only you get to know professionals (and friends) from all over the world, but you are surrounded by a highly strong growth mindset provided by students, alumni, faculty and University staff. In relation to the latter, special mention (and massive thanks) to Yazmyne Vasquez and the entire Office of Career Development."
More on Miami Law's LL.M. Programs
More on Support for Foreign-Trained Lawyers