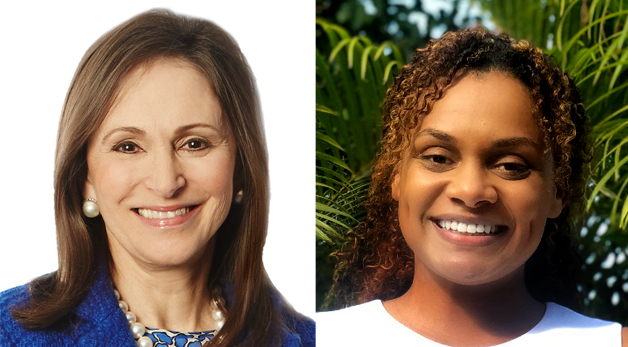 Carolyn Lamm & Jordan Rhodes
The University of Miami Board of Trustees recently elected two members of the Miami Law community to its ranks. Carolyn Lamm, J.D. '73, a partner at White & Case in Washington D.C. and distinguished faculty chair for the White & Case International Arbitration LL.M. Program was named to the Board of Trustees, while third-year law student Jordan Rhodes was named as a student trustee.
"I am thrilled that Miami Law community members Carolyn Lamm and Jordan Rhodes are now University of Miami trustees," said Dean Anthony E. Varona. 
Lamm specializes in international arbitration, international trade matters, and international commercial litigation, with a primary focus on representing foreign corporate clients and sovereigns. She previously worked in the U.S. Department of Justice Honor's program and was a trial attorney in the Fraud Section, Civil Division, before becoming assistant director of the Commercial Litigation Branch, Civil Division. She served as the president of the American Bar Association from 2009-2010. Lamm was appointed by President Clinton to the U.S. Panel of Arbitrators and/or Conciliators of the ICSID and later by the Government of Uzbekistan to the Uzbek Panel of Arbitrators for ICSID arbitration. Currently, Lamm serves as Vice Chair of the School of Law's fundraising campaign.
"Carolyn has long been one of the most distinguished of our alumni, not only serving as a trailblazer in international commercial arbitration but as a leader in her firm and of the legal profession itself," said Varona. "As our distinguished faculty chair of our LL.M. program in international arbitration and a longtime adjunct professor known for her excellence in teaching and her dedication to her students, Carolyn takes to the UM Board of Trustees the best possible combination of skills and expertise in law, business, philanthropy, international affairs, and teaching."
Rhodes is entering her third year at Miami Law. She is the president of the Student Bar Association. In her first semester, she received the Dean's List distinction while also serving as a 1L Senator for the Student Bar Association. Rhodes is a member of the Society of Bar & Gavel, a community service and honor society. She maintains leadership positions in both the Black Law Student Association and OutLaw, and she works with the Children & Youth Law Clinic. Rhodes obtained a B.A. in Political Science, African American Studies and a minor in Mass Communications from the University of Florida.
"In Jordan Rhodes, we have a student leader who has distinguished herself in her ability to tackle difficult and complicated issues with intelligence and tenacity, listening to many diverse voices, and representing students with great integrity and eloquence as she speaks truth to power," said Varona.
"The Board of Trustees, and UM as a whole, are fortunate that Carolyn and Jordan were elected."