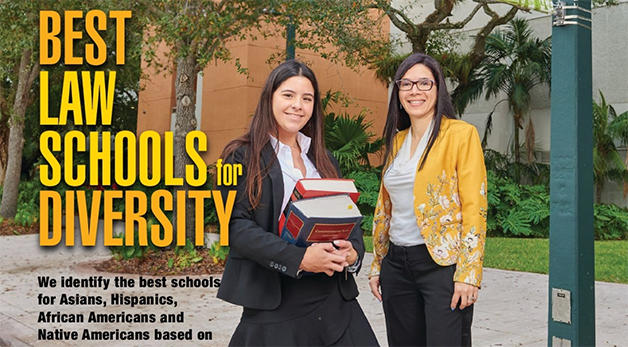 Pictured PreLaw magazine winter 2020 with Miami Law's Paula Arias (R) and 3L Natalia Jaramillo (L) on the cover.
The PreLaw Magazine Winter 2020 issue has once again given high numbers to Miami Law in a variety of spheres.
'A-' for Trial Advocacy
It is no surprise Miami Law earned high marks in trial advocacy as moot court, litigation skills, and mock trial and strong components of the law school program.
The acclaimed Litigation Skills Program is taught by experienced trial lawyers and judges, students engage in rigorous, hands-on training in practical skills for competent professional legal service. Students can also concentrate their law studies with Litigation and Dispute Resolution.
Through the Charles C. Papy Moot Court Board, the Trial Team, and the International Moot Court Program, students hone advocacy skills locally, across the U.S. and all over the world.
Moot wins of note over the past few years have included: Best Oralist at Vis Arbitral Moot, 2nd in Tulane Sports Law, Best out of 31 Teams to Win Kaufman Securities Moot in NYC, and Best in Americas at The Hague ICC Moot Plus Best Oralist Award.
#5 Out of 25 in Diversity
Just as Miami Law was recently ranked #5 in Most Diverse Faculty in Princeton Review's 2020 Law School Rankings, PreLaw Magazine also tipped its hat to Miami Law's commitment to promoting diversity and inclusion within the student body and legal profession.
The magazine looked at the best law schools for African Americans, Asian Americans, Native Americans, and Hispanics, and Miami Law came in #5 for best law school for Hispanics. PreLaw based its methodology on three key data points: percentage of students in each ethnic group, percentage of minority law professors, and diversity of services offered by the school.
3L Natalia Jaramillo, a Miami Law J.D./LL.M. in International Arbitration, was interviewed for the article and said, "You can't underestimate it [the Latin culture]. It creates a sense of security. You see it everywhere."
In terms of student services, Miami Law also supports diversity with a Director of Diversity and Inclusion in the Career Development Office and a Director of Accessibility and Student Inclusion. Also, the Dean of Students works with a diverse set of student organizations including law associations for: Asian Pacific American Students; Caribbean Students; Black Students; Hispanic Students; Women; Middle Eastern Students; Older Wiser Students; OUTLaw; and South Asian Students.
'A' for International Law and Public Policy
With one of the largest number of faculty members who teach or do scholarly research in the area of international and foreign law of any American law school, the University of Miami School of Law is known for its strength in international law.
PreLaw Magazine recognized this, giving an A rating to Miami Law for International Law. This comes on the heels of its sister publication, The International Jurist, categorizing Miami Law as a top 25 school for foreign lawyers and a hot spot for international law.
Additional strengths in international law include Miami Law's large international, comparative and foreign law library collection, two internationally-oriented law reviews, the International Arbitration Institute, and the variety of student organizations with an international law slant.
A high grade in public policy comes from the ability for students to concentrate their studies in Social Justice & Public Interest or Immigration, Asylum and Citizenship Law. Or, students can really dive into public policy completing a joint degree in law and public administration or participating in a clinic. Students have lobbied for policy changes in Washington, D.C., in Africa, at the United Nations, and at home through their choice of clinics.
PreLaw ranked schools based on breadth of curricular offerings specifically giving weight to clinics, concentrations, centers, externships, journals, and student groups.
In addition to the above distinctions, Miami Law has garnered high rankings in the past for technology and law, public interest, innovation, and moot court.