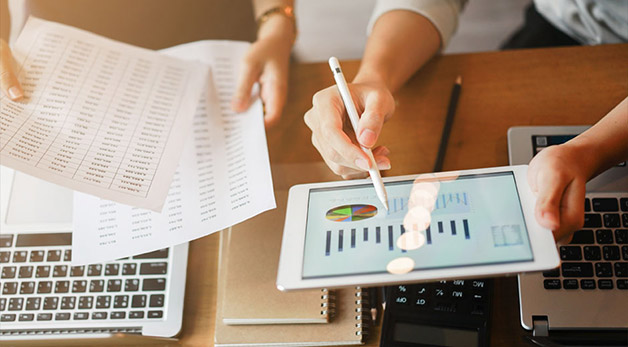 Under the guidance of a seasoned investment professional, a group of graduate students is building the University of Miami's new start-up that aims to help University-affiliated new businesses find investors.
Three Miami Law students are among the nine accomplished University of Miami graduate students who are turning Vice Provost for Innovation Norma Kenyon's vision for the 'Cane Angel Network into reality while gaining business law experience.
One budding lawyer, Farah Sheikh, is the 2013 U.S. Ladies Collegiate Figure Skating National Champion who started her first business, selling candy, on her elementary school bus. Third-year law student Osaro Qualis has his undergraduate degree in business administration, with a minor in economics, and is fellow at Miami Law's Startup Practicum. Soon-to-be double 'Cane Lily Hutchinson has her undergraduate degree in business administration and is also a Miami Law Startup Practicum Fellow.
"By helping the 'Cane Angel Network launch this semester, our students got the rare opportunity to learn firsthand how to start an investment group from scratch and the legal issues raised doing so," said Dan Ravicher, Director of the Miami Law Startup Practicum. "This real world experience is a tremendous way for our students to apply what they've learned in the classroom about how the law governs startup investing and see it happen in practice."
Now open for business, the new enterprise for University-affiliated start-ups connects investors to companies in need of early-stage funding. The students have the job of building the network—which is open to all eligible University students, alumni, employees, or their direct relatives—from the ground up.
Sheikh, the third-year law student who is familiar with trademark and business association law from her participation in Miami Law's start-up practicum, said she, too, is learning a lot from her student investment teammates, which she thinks is a huge plus for the network.
"We are such a well-rounded and diverse pool," said Sheikh, who, in addition to the candy business she launched in grade school, recently ran a business coaching fellow skaters. "We're curious and avid learners who bring our own undergraduate, work, and graduate school experiences to the table, which I think is a positive for future investors who will count on us to vet investment proposals."
The other students include a M.B.A. student was a fashion designer in New York. Another taught anatomy and worked for a company that explored regenerative medicine. The two medical students are pursuing their M.B.A.s along with their M.D. degrees.
"This is no academic exercise," said Jeffrey Camp, the network's founding managing director and instructor of the inaugural 'Cane Angel Network—Investing in the Real World course. "These students are dealing with real companies and real dollars.''
"Assisting the 'Cane Angel Network allows me to gain hands-on experience involved with the capital vetting process for startups, as well as a holistic perspective and well-rounded exposure that is not just legally oriented," said West Miramar native Qualis, who is also a senator with law school's Student Bar Association. "Since my future goal is to work with startups, building connections with future potential clients and learning about the due diligence process is an invaluable experience."
This hardly seems like the best environment in which to recruit University-affiliated angel investors who pay a $2,500 annual fee for the opportunity to take part in companies that survive the network's vetting and due diligence processes, which the students spent the first part of the spring semester implementing under Camp's guidance.
But Camp, who was a No. 1-ranked Wall Street investment analyst during the 2000 dot.com boom and bust, doesn't see it that way. He noted that Kenyon, who is also the Miller School of Medicine's chief innovation officer, substantially strengthened the University's innovation ecosystem since taking the helm of U Innovation seven years ago. Today, the University boasts more than 80 faculty-founded start-ups and is licensing about 30 faculty inventions a year.
"Uber, Airbnb, Venmo, and Stripe all started during the 2008 Great Recession and all are now 'unicorns'—a term used for start-ups that achieve a valuation in excess of a billion dollars," Camp said. "So savvy angels and strong founders can do well in any environment. And, thanks to the infrastructure in place, the network is poised to capitalize on the University's strength in research, as well as its extensive alumni network, to help find opportunities even during difficult times."
The students have that can-do spirit and aren't daunted by the challenges. They've barely missed a beat since returning from an extra week of spring break to what is now Camp's virtual Zoom classroom, which operates like a real-world investment firm. There are no lectures or tests, only meetings and brainstorming sessions where Camp and the students share their respective skills and expertise and decide who's best suited or most interested in completing innumerable tasks.
They continue to write the training manual for their successors and are creating original content for the network's website and developing the digital, social media, and email marketing strategies that will replace the in-person meetings and events that aren't feasible in the new work-at-home world.
"I volunteered to be a part of the 'Cane Angel Network as I had been working with Start Ups with various matters such as formation, compliance, intellectual property but wanted to round out my skill set by learning about the investment portion of the process," said the Barbados born Hutchinson, also a fellow in the Startup Practicum.
"This has been an incredible opportunity to learn about angel investments and the procedures required to get a business ready for investors."
More on Miami Law's Startup Clinic
More on Studying Business Law