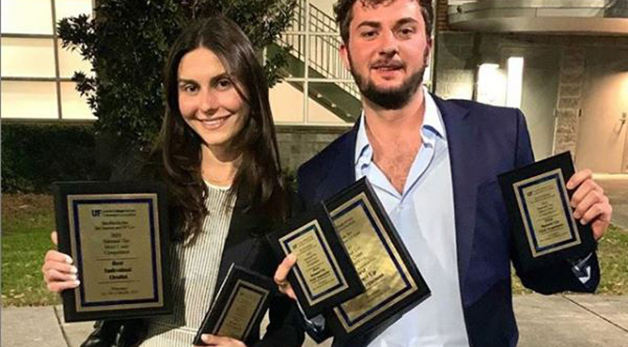 Third-year students Gabrielle Hasner and Mark Miskolczi 
Miami Law's Charles C. Papy, Jr. Moot Court Board met with success in the Cristol, Kahn, Paskay (CKP) Cup in 2020 and 2019. 3L students Clayton Schmitt and Keigan Vannoy won first place at the regional Eleventh Circuit Bankruptcy competition for the 9th CKP Cup, and Keigan was also honored as Best Oralist. The Miami Law team of 3Ls Nicole McLemore, Dina Sarver, and Daniel Guernsey also won the 8th CKP Cup.
The CKP Cup serves as the regional warm-up for the Duberstein National Bankruptcy Competition. Law schools from the Eleventh Circuit compete in the CKP before heading to New York City in early March for the national Duberstein bankruptcy competition. In 2019 the team of Clayton Schmitt, 2L, Keigan Vannoy, 3L, and Dimitrije Canic, 3L, also came in second place in the Duberstein Bankruptcy Moot Court Competition.
"When the organizers announced our team made the finals it was a surreal moment," said Canic. "All of the hard work and effort we put in during those days and nights was validated and rewarded." Miami Law placed second out of 60 schools.
In addition, 2020 was the first time the Papy Moot Court Board attended the prestigious National Tax Moot Court Competition hosted by the Tax Section of The Florida Bar.
Third-year students Gabrielle Hasner and Mark Miskolczi made it to the finals and were runner-up finalists out of all fourteen teams. Also, Hasner was awarded best individual oralist of the entire competition. This year, the case involved the interplay between the U.S.-Swiss Tax Treaty and the Internal Revenue Code in relation to a foreign athlete's endorsement contract.
Reflecting on the win, Inter-School Vice President of the Papy Moot Court Board Jeanelle Gomez said, "We are very proud of our members and their coach, Miguel Fernandez, J.D. '18. Our team also received tremendous help and support from Professor Patricia Brown, who guided the team in understanding the complexities of the issues."