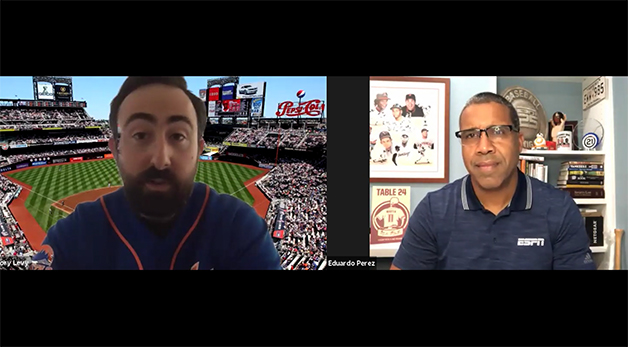 Greg Levy and Eduardo Perez on Zoom
The University of Miami School of Law showcased its annual Global Entertainment & Sports Law + Industry Conference last week online, for the first time.
The student-run Entertainment and Sports Law Society and Miami Law's award-winning Entertainment, Arts and Sports Law LL.M. program presented the conference. As a result of the ongoing COVID-19 public health crisis, the event was hosted as a free, interactive webinar, with over 800 participants representing dozens of countries engaging in insightful dialogue with the speakers.
"In fewer than 10 days we were able to convert a two-day in-person conference to a one-day all virtual conference and pivot key panels to focus on the impacts of COVID-19 on the entertainment and sports industries," said Greg Levy, Director of Miami Law's Entertainment, Arts and Sports Law LL.M. program. "Miami Law and our program continue to create spaces for our community to come together to think, learn, discuss, collaborate, and innovate around entertainment, arts and sports."
The event featured a full day of industry leaders speaking on a variety of topics, including issues facing sports general counsels, challenges for music venues and festivals in the face of pandemics, valuing, buying, and borrowing against intellectual property assets and intellectual property protection for graffiti art. A constant theme discussed throughout the day was the impact of COVID-19 on the entertainment, sports, and arts industries. Speakers offered their insight as to the challenges they have faced as the pandemic has unfolded, as well as their thoughts on the immediate and long-term impacts of the virus.
Innovation Talk speakers included Spotify's Horacio Gutierrez, Head of Global Affairs and Chief Legal Officer; Sam Gordon, a 17-year old football star and change agent who discussed tackling inequality; and concluded with ESPN Major League Baseball (MLB) analyst and retired MLB baseball player, Eduardo Perez, who discussed COVID-19 and the current state of professional sports.
"I could not be prouder of the collective effort that went into producing the on-line version of our conference," said Harold Flegelman, Director of the Entertainment Track of the LL.M. program. "With so little time to prepare, students, administration, staff, faculty and featured panelists came together as one to present a program that addressed compelling topics in the entertainment, arts and sports industries, and attracted more than 800 attendees from around the world, including students, lawyers and industry professionals."
A committee of Miami Law students, led by Levy and Flegelman, were determined to find a way to host the conference online. Their efforts resulted in an innovative webinar that was well received by attendees.
"The Global Sport & Entertainment Webinar Conference was a great way of connecting with industry leaders to learn about not only their roles and organizations, but the timely challenges they are currently facing," said Julianna Rubin, a second-year student who attended the conference. "The formatting allowed us as participants to listen as if it were in person, and then ask questions in real time. It was a very well-adapted conference and showed that the law, as well as the sports, arts and entertainment industries, like many others, can persevere."
The Entertainment and Sports Law Society hopes to build on the success of the conference by incorporating more online programs in the future. "We think the success of this year's conference indicates that we can and should continue to use webinars in order to showcase speakers from across the world," said Levy. "We think online events like this will certainly be integrated in future programming, and we are excited for the innovative ways we can continue to connect industry leaders with our students."
Stay tuned in the coming weeks to learn how to access content from the conference on Miami Law's website and social media channels.
Learn more about Miami Law's LL.M. in Entertainment, Arts and Sports Law.