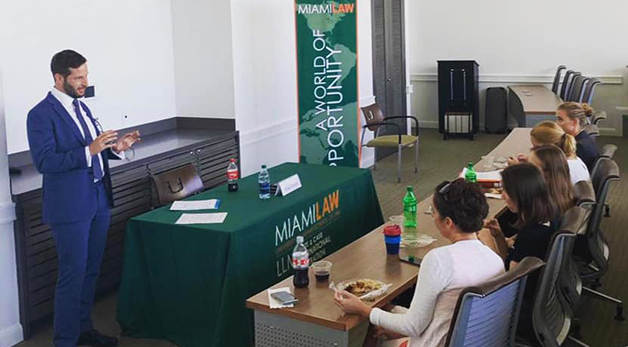 Diogo Pereira, J.D. '10, speaking to law students and faculty
The Lava Jato scandal in Brazil, which implicated hundreds of individuals and politicians across Latin America in bribery schemes, has drawn increasing attention to the impact of corruption and illegality in International arbitration. 
Against this challenging recent backdrop across Latin America, Miami Law alumnus Diogo Pereira, J.D. '10, spoke to law students and faculty recently to weigh in on these scandals and discussed what illegal actions mean in the context of international arbitration. The event was organized by Miami Law's White & Case International Arbitration LL.M. Program and the International Moot Court Program. 
Pereira is a partner at De Almeida Pereira, a Washington, D.C. and São Paulo-based firm specializing in public international law, international disputes, and investigations.  He has represented various international investors and sovereigns in commercial and investment disputes and currently is representing clients with matters at the heart of the Lava Jato scandal.  He identified illegality and corruption as a key issue to consider for those considering embarking on an international legal career.
The event began with the discussion of several landmark international arbitration cases that dealt with corruption and allegations of illegality in international legal disputes. In Soleimany v. Soleimany (1999), an English court found that arbitration cannot legitimize an illegal activity by enforcing an arbitration agreement in an illegal contractual arrangement.   
This set a clear precedent in England and Wales about the necessary legality of the underlying contract giving rise to an arbitration.  Fiona Trust & Holding Corp. v. Privalov, built on this and gave rise to a lively debate on the principles of Kompetenz-Kompetenz and Separability which are critical for an arbitral tribunal to consider basic issues of illegality or bribery in finalization of a contract. The Fiona court concluded that the validity of the arbitration clause was independent of the matrix contract and thus enforceable despite a potential conclusion that the contract itself was invalid.  
In the context of Investment Arbitration, Pereira highlighted World Duty-Free v. Kenya, which ruled against investor protections in a contract procured through a bribe to the government. While the ruling strengthened the policy against contracts tainted by corruption, it led to a lively debate among the participants about the legitimacy of allowing a government to be let off the hook from honoring its own contractual duties after it received a bribe. 
"Arbitrators have phenomenal power," Pereira stressed, "they can pass judgment on an entire state."  The lively discussion that followed emphasized the importance of the integrity of arbitrators when they are tasked with such enormous responsibility. 
Pereira ended with the recent case of Vantage Deepwater Co. v. Petrobras Am., regarding a dispute arising out of an offshore drilling contract that resulted in an award of $650 million. The government party invoked contractual illegality to avoid paying the award. The case was taken to a federal court in Texas, which denied the effort to vacate the award on the grounds that there had been a novation of the contract after the Petrobras had already uncovered the bribe in question.
Pereira noted that the case, along with World Duty-Free, acknowledges "that a state actor or state-owned entity should not use their own misconduct as a defense, particularly when they later ratified the conduct."
These cases illustrate the complexity that arises where there are claims of illegality in arbitration. Pereira asked the audience, "how illegal is illegal?" and had students consider how to formulate a principles-based taxonomy for such questions.  Pereira emphasized how corruption corrodes public trust in both legal and political institutions. 
Pereira encouraged the students to consider weighty questions such as: Should a contract procured through a bribe always be declared void for public policy interests? What law should be applicable to these determinations?  How can we apply our legal training in the context of an authoritarian jurisdiction based on legal premises that are dramatically different from Common Law principles?  How do arbitration attorneys navigate these ethical and legal dilemmas? How does the arbitration system reconcile its emphasis on client privacy and autonomy while discouraging corruption? 
The biggest takeaway from the discussion was that corruption is something that future international lawyers will need to think about.
Students in both programs the White & Case International Arbitration LL.M. Program and the International Moot Court Program and from the wider Miami Law body asked spirited questions about the future of these challenges to international practice and what they as prospective international lawyers can do when facing cases or clients involved in corruption. 
Pereira also offered general guidance to students on forging their career in the international legal space, crediting his experience in the IMCP MOOTMadrid team with helping secure his first job in the field after graduation. He stressed that students must often rely on their own moral compass when dealing with ethically gray situations and emphasized the crucial role that lawyers must play in balancing their clients' interests with those of the public.
The event provided Miami Law students with a critical perspective on some of the dynamic issues taking place across the legal field worldwide. 
More on the White & Case International Arbitration LL.M. Program, 
More on the International Moot Court Program