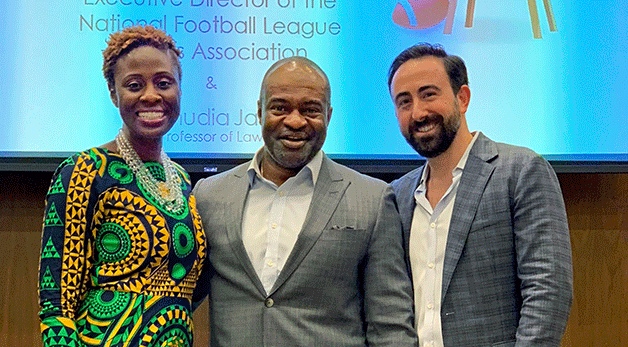 Professor Osamudia James, DeMaurice Fitzgerald Smith & Greg Levy
The National Football League Players Association's DeMaurice Fitzgerald Smith sat down during a record-breaking Miami heatwave with Miami Law's Professor and Dean's Distinguished Scholar Osamudia James for a "fireside chat" at the Kislak Center at the University of Miami Tuesday evening.
Sponsored by the Entertainment & Sports Law Society, the Entertainment, Arts and Sports Law LL.M., and UM Libraries, the quick-witted former assistant U.S. Attorney joked and spoke to a full house of law students and interested undergraduates. He discussed his professional journey as well as the role he played during his first term leading the union in negotiating the collective bargaining agreement during the 2011 NFL lockout.
"Wow! If that's the highlight for the night," he laughed, "open bar."
The NFLPA unanimously elected Smith in 2009 despite his lack of football experience and has since elected him to second and third terms during which he fights for both better player salaries and improved safety as well as long-term health care and increased retirement benefits.
"I was on the transition team at Justice and was looking at coming back to D.C.," he said "and I got this call from the player's union. My first reaction was, 'you've got the wrong person' because I hadn't played, I wasn't an agent, and I just kind of like football but don't know that much about it."
He says his experience representing large corporations led the executive committee to seek him out.
"They were looking for someone who would look at it from a business perspective, not a sports perspective," he said. "For most of you who are going to be lawyers, especially those who are working for big corporations, they demand a level of aggression and excellence. And when you are challenged like that, you rise to the occasion. And that is what the players were looking for to fill the position."
Smith said that signing a $100 billion deal, like the CBA in 2011, "it's pretty sobering. The money is one thing, but our men pay in human capital. And that is never lost on me," he said.
The 55-year-old District of Columbia native started his career as a trial lawyer and litigation partner at the hometown firm of Latham & Watkins. Later, at Patton Boggs, he served as the chair of the firm's governmental investigations and white-collar practice group.
In addition to his post at the U.S. Attorney's D.C. office, Smith was counsel to then-Deputy Attorney General Eric Holder, Jr. While in that role, he was conferred the office's highest honor for courtroom advocacy and the Department of Justice's topmost award by U.S. Attorney Janet W. Reno.
The University of Virginia School of Law graduate has been awarded the Eleanor Roosevelt Human Rights Award, the Keeper of the Dream Award, by the Action Network Alliance, the City of Justice Award by the Los Angeles Alliance for a New Economy and was inducted into the Ohio Foundation of Independent Colleges' Hall of Excellence. Smith has been named one of the top 10 most influential executives in sports.
At the NFLPA, he sees his mission not only to protect and serve the players but also to press them to oversee their own careers, educate themselves, and be more present in the process of negotiation.
"I couldn't imagine a better profession than the law," he said. "If you look at what our duty is as a lawyer, why would I ever apologize for being combative? We are allowed to have a profession where we are compelled to only look at the interest of your client. If people call you aggressive or combative or zero-sum and willing to go to war, what the critics aren't willing to say is that you were well prepared, you looked through all the options, and you found a way to rally the people around you.
"Whether it's people of color or women in business or any sort of group of people who have had to fight for something that they thought they were entitled to, at what time haven't the people who have led those organizations been called zero-sum, aggressive, or combative?" he said.
More on Entertainment and Sports Law at Miami Law