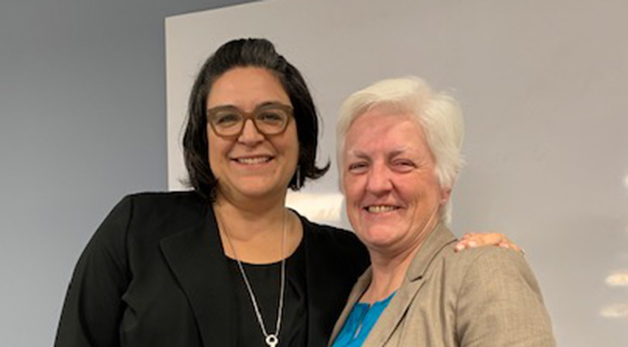 Monica Vigues-Pitan, LSGMI's Executive Director with Alice Kerr, 3L
Legal Services of Greater Miami recently recognized third-year student Alice Kerr for her dedication to promoting equal justice for all at their annual awards ceremony on September 25, 2019. Kerr has worked in different capacities with LSGMI since serving as a full-time summer intern as part of the HOPE Public Interest Resource Center's Summer Public Interest Fellowship program in 2018. Kerr currently works with LSGMI's Veterans Advocacy Project. After 30 years in the military, Kerr decided to go to law school to become an advocate for Veterans.
Q: Tell us about your most recent work with LSGMI.
A: I worked in LSGMI's Veterans Advocacy Project under the Supportive Services for Veterans Families grant. I participated in off-site outreach to help Veterans and their families gain access to legal resources they need in order to successfully transition to, or maintain permanent housing. I drafted legal briefs to the Board of Veteran Appeals seeking reconsideration for denial of health benefits so that Veterans could receive the benefits they earned. I wrote requests to the Board of Correction for Military/Naval Records seeking discharge upgrades for Veterans denied benefits due to their character of service determination. This particular effort is important because a Veteran must meet a very specific Department of Veterans Affairs definition of "Veteran" to be eligible for benefits. Quite often, Veterans do not realize that the character of their discharge will directly impact their eligibility for benefits.
Q: What has been the most challenging aspect of the work? What have you most enjoyed?
A: The most challenging aspect of the work I did was the seemingly impossible timelines. Many times, the Veteran would seek our assistance at the proverbial last minute. Trying to address their needs, doing research, and writing the appropriate requests/responses given a short turn-around is a heavy lift, especially since I am still learning all the ins-and-outs of this type of advocacy. As far as the most rewarding aspect, I will point to one example that I think highlights the reason LSGMI is so essential. Due to our advocacy, we were able to get a client's VA co-payment debt reduced from $567.00 to $65.11. It might not seem like much, but it means the client will be able to pay rent this month. I serve in order to help others achieve stability in their lives and I believe that there is no such thing as a small victory.
Q: What experience(s) at Miami Law best prepared you for this work?
A: The experiences at Miami Law that best prepared me for this work were being (a) a SPIF Fellow, and (b) a Miami Law Ambassador. As a SPIF Fellow, I interned with LGSMI, so that opened the door to the opportunity with the Veterans Advocacy Project. Beyond that, having a cohort of colleagues (and amazing faculty/staff support) provided me the environment I needed to conduct honest self-assessments. The support allowed me to grow, as a student and as a person. The Miami Law Ambassador program prepared me in a different way. Being an Ambassador exposes you to people from all walks of life. It also teaches you to think on your feet and provide succinct answers to many different queries. The skills I developed as an Ambassador definitely helped me during my off-site outreach activities with LSGMI.
Q: What student organizations, clinics, and activities have you participated in at Miami Law?
A: I participated in the Health Rights Clinic during my 2L year. I am the Secretary of Society of Bar and Gavel, am a member of OUTLaw and the OWLS (Older, Wiser Law Students). 
Q: What does being recognized with this award from LSGMI mean to you?
A: Being recognized as the Outstanding Law Clerk is a humbling experience. My goal in working at LSGMI was to do whatever I could to help our Veterans. I feel the recognition belongs more to all of the people that supported me during my time at LSGMI because without them, I would not be able to do my part to fulfill President Lincoln's promise to "care for those who have borne the battle."
More on the HOPE Public Interest Resource Center
More on Summer Public Interest Fellowships